From protecting against premature ageing to keeping oiliness at bay, living in a hot, humid climate presents many unique skincare challenges – as many of us well know. And whilst layering several products for different purposes onto your skin might seem like the answer, sometimes all you need is simple-yet-effective skincare to help keep your complexion in check. That's where cult wellness brand JSHealth comes in with its streamlined four-step routine that works wonders for all skin types.
Founded by nutritionist and cookbook author Jessica Sepel, JSHealth is already internationally loved for its science-backed range of vitamins and supplements. Looking to replicate the benefits of vitamins topically, the team worked with leading biochemists for two years to perfect the range. The result is a high-performance skincare system that blends vitamins and botanics to deliver soothed, hydrated and radiant skin.
The vitamin-infused skincare range includes a cleanser, serum, vitamin oil and moisturiser, which work synchronously to transform the skin without overloading it. And the results speak for themselves. In a 30-day study, 93 per cent of participants reported that their skin was calm and soothed after using the four-step routine, 95 per cent agreed that it made their skin feel more hydrated and healthy, and 87 per cent saw a plumper, more youthful complexion.
Perhaps even more impressively, the range has also proven highly effective for rosacea — a notoriously difficult condition to treat. As well as heat and sunlight, many harsh skincare products can actually make the redness and irritation worse. After years spent seeking a solution, one ecstatic customer named Belinda finally found her holy grail in the JSHealth range.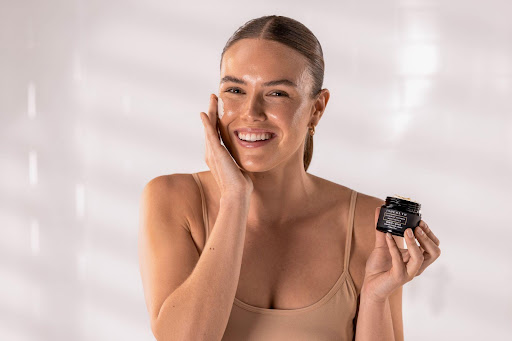 "I have spent hundreds of dollars trying so many different treatments and products and seeing dermatologists who recommended a course of harsh prescription medication," says Belinda. "I stopped everything and just started using the JSHealth Vitamins natural four-step skincare system. After only a month or so my skin has completely cleared up."
The secret to the range's effectiveness lies in the bespoke JSH-V7™ Complex, which contains seven key science-backed vitamins to deliver results without compromising the skin barrier. Using natural ingredients like Vitamin C, Vitamin B5, and Grape Seed Oil to do the heavy lifting, the vegan, cruelty-free products also won big at the 2022 Global Green Beauty Awards.
"JSHealth Vitamins Skin collection is a natural extension of what we do best — showing you yet another way to experience the power of vitamins," says founder Jessica Sepel. "It's skincare that's simple to use and understand, yet highly effective. I created this range for myself, my team and my beloved community to take your skin to new heights."
Read on to learn more about the four products in the range.
Step one: Balancing Vitamin Cleanser — MYR137
Kickstart your routine with this calming, creamy cleanser. Formulated with nourishing ingredients including avocado and chamomile, it creates a light, lathering emulsion to leave the skin soft and clean, minus any tightness.
Shop the Balancing Vitamin Cleanser
Step two: Pro-Collagen Vitamin Serum — MYR233
Fine lines, wrinkles and uneven skin tone don't stand a chance against this powerhouse serum. Lightweight yet potent, it's loaded with age-defying actives like vitamin C and hyaluronic acid to brighten, plump and smooth the skin.
Shop the Pro-Collagen Vitamin Serum
Step three: Luminous Vitamin Oil — MYR182
Next, it's time to dial up the glow with this luxurious oil. Combining the powerful natural retinol alternative, Bakuchiol, with marula oils and other botanicals, just a few drops can visibly increase radiance and luminosity.
Shop the Luminous Vitamin Oil
Step 4 – Probiotic Vitamin Moisturiser — MYR151
Finish with this deeply nourishing cream, which is designed to deliver a powerful dose of hydration. It combines powerful probiotics like Lactobacillus Ferment with calming calendula to sooth, repair and protect — all at the same time.
Shop the Probiotic Vitamin Moisturiser
You can shop the range individually, or grab the entire kit for MYR600. Use the four-step routine daily in the morning and night to reap the supercharged benefits of the lineup. Glazed donut skin, here you come.