A visit to the hairdresser can truly make or break your day. This time, I took a gamble and made my way to Bukit Damansara's latest addition, Portfolio Hair Studio. Staffed with multi-award-winning hairstylists, my expectations for the salon are pretty substantial.
Once I made it to their Plaza Batai address, I received a warm welcome from the team. Ahead of the service, I got acquainted with William Wong, Junn Ng, and Edwin Chong. William, formerly a Managing Director for TONI&GUY Academy Malaysia, has 21 years of experience in the hairstyling industry. Over this time span, he has worked with prominent figures, from the Terengganu royal family to huge celebrities like Eyka Farhana. Despite being the most junior among all, Junn has 15 years under his belt, and most recently his work was on full display at the Tom Ford and Roberto Cavalli ready-to-wear showcase in KL. Last, but not least, as I settled into the chair, Edwin introduced himself as the pilot for my hair journey. Similar to William, his hands have also produced magic for the likes of Perak royalty.
Let's set the scene. Before my visit to Portfolio Hair Studio, the last time I paid a visit to a salon was north of six months ago, so I was in need of a serious retouch—particularly a cut and colour. I fully let them take the reins over the direction, and Edwin further gained my trust as our conversation went on. What I thought to be small talk was him subliminally analysing my needs. By the time I went to get my hair washed, he determined my concerns, which were to keep my length where possible and to dye my hair a colour that would work with the many makeup looks and outfits I find myself needing for work.
Ladies Cut and Finishing
Having grown used to long hair, it's important for me to keep my length. For Edwin, a haircut requires him to look beyond the locks; it's also imperative to look at the person as a whole. He takes into account your facial profile, your head shape, and even your shoulder width to determine the best cut. "I may be cutting your hair, but you will end up appearing to have more," he confirmed. Each snip was very much calculated.
We've all been there: your hair stylist says they're just going to trim the edges off, but you end up with hair that's much shorter than expected. To my delight, I maintained pretty much the same measurement. I could see that my layers were also restructured to form a more delicate silhouette.
I did inquire for those who might want to go in a more drastic direction, length-wise. The short of it is this: Portfolio Hair Studio will pay extra attention to these jobs. Edwin said it's no longer going to only be about how to frame your face. Instead, with pixie cuts and bobs, it's important for them to work with the shape of your head as well.
Balayage and Toning
We were approaching the colouring part of the service when I delved into my colour history as Edwin expertly free-painted the lightener onto my hair. Aside from my annual visit to colour my hair at (insert the salons that were running the best promotions here) salon, the occasional impulsive box-dyeing, I've also dabbled in semi-permanent colours.
After a good hour or so, he was done. By this point, the folks at Portfolio Hair Studio had been plying me with snacks—and they kept it coming. While it is best to come into a seven-hour-long session with a full belly, you can count on the staff members to keep you satiated. You also have full access to restaurants across Plaza Batai should you need a fuller meal.
As my hair processed, Edwin discovered that my semi-permanent hair dye experimentation had left some residue that disrupted the bleaching process. To correct this, he added another round of bleach to lift as much of the previous colour as possible.
Then we got to the toning segment of the service. He had two colours in mind for me—and because of the hiccup from the semi-permanent hair dye, he went for the second option. At this point, I was glad that I walked in with an open mind, and that I was in the hands of some of the best in the game. Instead of putting me on a third round of bleach (which would irreversibly damage my hair even further), he worked with what he had.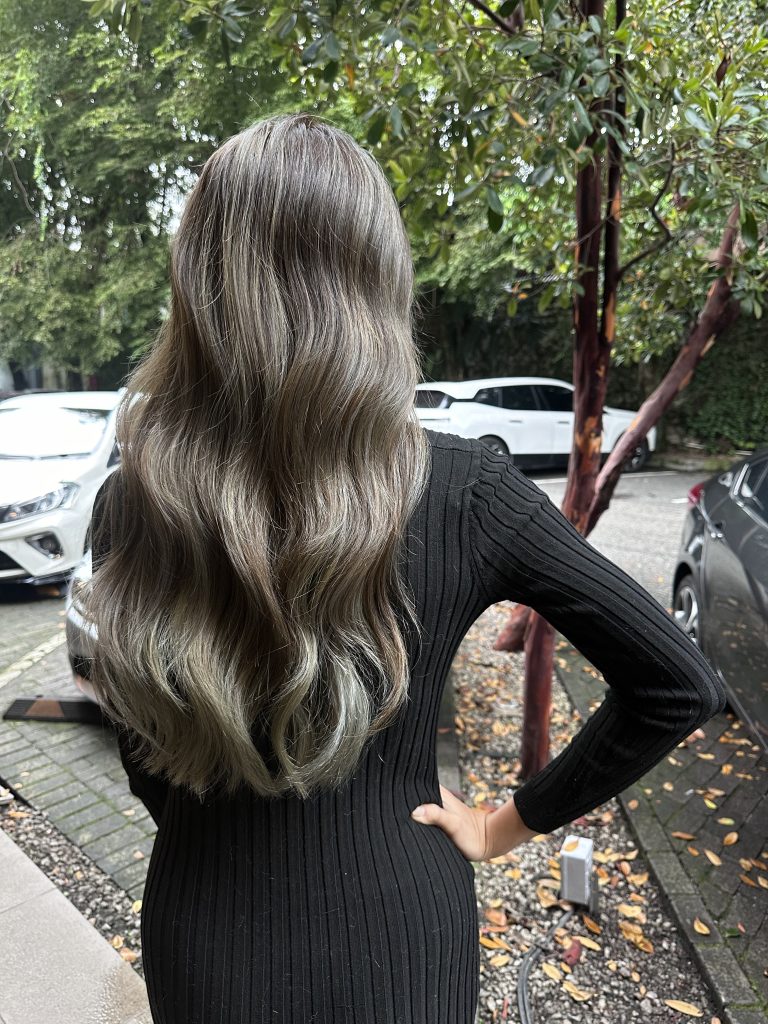 The end result had me amazed with Edwin's prowess, not only as a hairstylist and colourist but also as a service attendant. His finesse showed through not only his expertise in hair but also understanding his customer, which has me looking forward to sitting in his chair again. I may have walked out with green hair, but I wouldn't have it any other way.
Address: Lot 8-3-1, Plaza Batai, Bukit Damansara, 50490, Kuala Lumpur