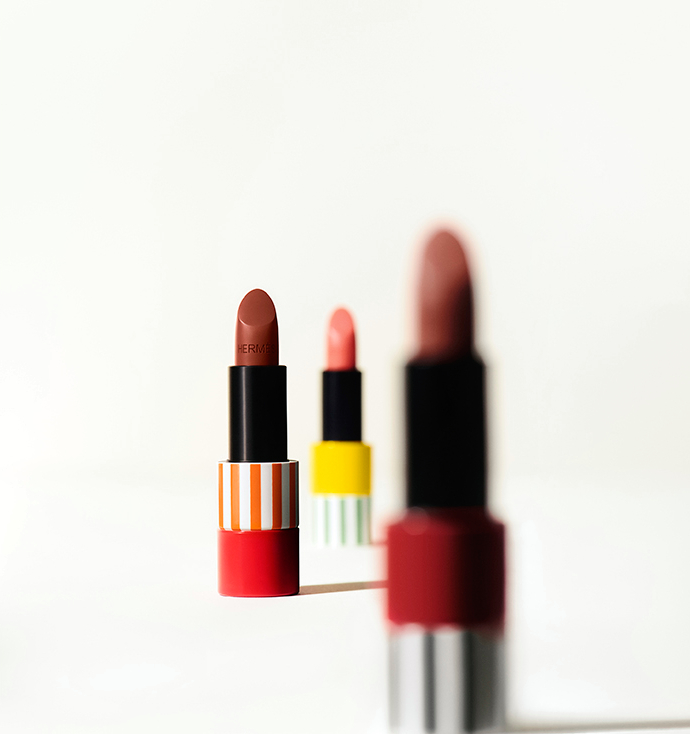 "Three soft, warm, sunkissed tones… a dazzling coral that illuminates the lips with sparkles, like the sun reflecting on the sea, a reddish-brown for lips flushed with colour by the hot sun, and a pinky-beige that elevates the lips as the daylight starts to fade into the summer night." says Gregoris Pyrpylis, creative director for Hermès Beauty about the Rouge Hermès Totem collection and to prove his facts if you have the pleasure of owning one (each are limited editions), the summer vibes even begin the minute you take each tube out of its classic orange box.
Featuring stripes which have always been an Hermès thing since 1903 with the Rocabar, a striped blanket used to keep horses warm till the 1920s when it raced across beach bags, a jacket and parasols; the next iteration of these lines and strokes appear on the Rouge Hermès Totem collection where its freshness mimics the lipsticks' shades like what Pyrpylis describes.
With three colours titled 22 Brun Yachting, a luminous brown with coppery glints, 06 Corail Parasol has an orangey-pink tint with a mother-of-pearl glow, and 10 Beige Croisette that is a slightly pink-toned beige, each of them gives a light and natural matte stain with just one swipe and the more you go over your twin set, a deeper colour develops like a summer tan that doesn't flake.
The catch to these cosmetics, however, is that refills for these limited edition colours are not available but you can pop in an existing colour from the range to keep the heat going. The range is available on Hermes.com and in stores.
This article originally appeared on GRAZIA.SG