The wait is finally over—at the Apple Event 2023, the company made an announcement, releasing their latest iPhone and we're now up to number 15 in the iconic lineup. Earlier this year, the tech giant already made waves with the announcement of the Apple Vision Pro and iOS17.
Introduced at Apple's headquarters in Cupertino, California, the brand new iPhone 15 is the marquee at Apple's unveiling of their latest products which include the Series 9 Apple Watch.
From the Apple Event 2023, these are the key new Apple releases we're most excited for:
iPhone 15 and iPhone 15 Plus
We know what you're wondering: What colours will the latest iPhone come in and will they match my wardrobe? Well, you're in luck, because clearly Apple has been taking some notes. The iPhone 15 and 15 Plus will be available in five prismatic colours for users to choose from; pink, yellow, green, blue, and black. 
Now on to less aesthetic concerns. For those who have a passion for content creation (or even if you just like to make crystal-clear memories), the iPhone 15 and iPhone 15 Plus feature durable, colour-infused back glasses and new contoured edges. These gadgets also come with an advanced camera system, a 48-megapixel main camera with 2x telephoto, and the ability to record in 4K. Whether you're snapping pics of your fur babies or for your portfolio, you can count on the phones to be able to give some of the best performance in the smartphone world.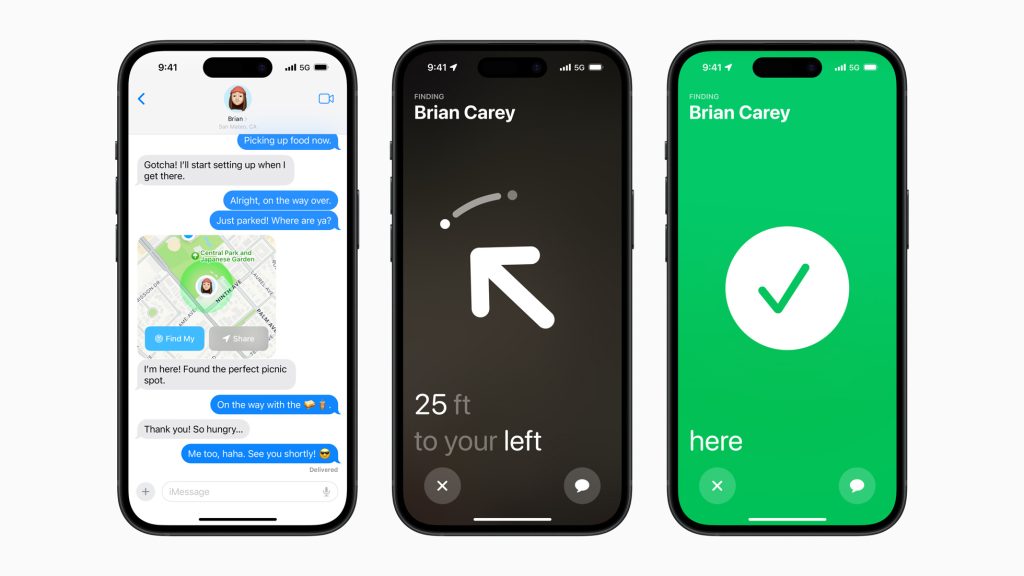 Location services are also more accurate than ever with the iPhone 15. With the second-generation Ultra Wideband chip, iPhone 15 users are able to share their location and find each other—even in crowds. So even if you're separated from your best friends at a concert or just want more specific points on the map, these are the phones for it. Say goodbye to rubbernecking.  
At the Apple Event 2023, it was also announced that all future iPhones will now arrive with a USB‑C connector in accordance with European Union regulations to standardize charging ports. If you're already using AirPods, newer generations iPads and MacBooks, this will cut out the number of chords you need to bring around with you at all times. All you need is the one cable, and you should be all set.
iPhone 15 and iPhone 15 Plus prices start from MYR4,399 and MYR4,899 respectively.
iPhone 15 Pro and iPhone 15 Pro Max
For those who prefer phones that are large and in charge, the iPhone 15 Pro and iPhone 15 Pro Max will be available in black titanium, white titanium, blue titanium, and natural titanium. Strong yet lightweight, the latest iPhone Pro lineup is designed using aerospace-grade titanium. This makes the brand new Pro models Apple's lightest so far.
Don't be surprised by the lack of a mute switch on the side of your iPhone 15 Pro or iPhone 15 Pro Max. Apple has decided to replace it with the all-new Action button. This latest change is activated by a press-and-hold gesture and allows users to customise its functions. Bye-bye mute switch, hello options!
iPhone 15 Pro and iPhone 15 Pro Max prices start at MYR5,499 and MYR6,499 respectively.
Apple Watch Series 9
The latest version of the world's best-selling smartwatch, the Apple Watch is back and it's better than ever. Where's the proof, you ask? For starters, the Apple Watch Series 9 is its first-ever carbon-neutral product, a stellar move to limit their carbon footprint.
At the Apple Event 2023, it was announced that another new feature will be made available on the brand new Apple Watch. It is the Double Tap, a convenient gesture that controls the watch by simply tapping the index finger and the thumb (of the hand wearing the watch) twice. Wearers are able to customise the function of the Double Tap with actions like hanging up phone calls, but now with style.
Running on watchOS 10, the Apple Watch Series 9 is also available in pink, which is just what should happen in the year of the Barbie movie. Apple Watch Series 9 will also be available in starlight, Product Red, midnight, and silver.
Apple Watch Series 9 and Apple Watch SE prices start at MYR1,899 and MYR1,199 respectively.