"I'm obsessed with the idea that everything [around us] is a cultural appropriation," artist Eduardo Enrique states boldly. He was referring to his exhibition at the Else Hotel, Lost Sanctuary, which inaugurates the hotel's first artist-in-residence programme—and hopefully, more to come. "It's a very unpopular idea, but everything we consume, eat, wear, and listen to, has roots that are untraceable. The idea that you're able to trace the absolute origin of something, for me, is an illusion."
Lost Sanctuary has been in production for the past two years, and the pieces in the series are most distinguishable by the combination of heritage antiques and modern-day capitalistic products in one sculpture. "It's a body of work that's pretty eye-catching and joyful to witness. At the same time, you're confronted with two objects that are not meant to be in the same place at the same time," he explained. "It almost seems disrespectful for the heritage object to be presented or used that way, but that's the tension I want to create. In fact, I almost want the beauty to overshadow that tension."
"At the end of the day, cultural exchange is how society is made up. [We are] focusing too much on the ideas of criticising cultural appropriation or trying to defend certain ideas of heritage and cultural practices [that it] can get to an extreme and impede the natural evolution of things," he said. The work in Lost Sanctuary, according to Enrique, is not meant to criticise or assault anything but to trigger conversations. "It's meant to evoke a certain reflection on how things work in culture and history. It's also a reflection of who we are because we're also just a combination of all the new ideas around us."
"I think the whole journey of us, as human beings, is to figure out what's right and what's wrong. What are we supposed to do? It all comes from things that we knew and things that we were thought to believe in. But also things that we're discovering, through ourselves and through things that are happening in the world. So I do think that each of the works [in this exhibition] is a reflection of us from that standpoint, where we are mixed up, like all the new ideas, clashing together."
Lost Sanctuary was born out of Enrique's life while growing up and moving countries, experiencing different cultures. "My whole life, I've been an outsider. I'm currently based in Singapore for nearly six years, and that's the longest I've stayed in one place. I left my home country of Venezuela when I was 17. Even in Venezuela, because of what my mother used to do, we would travel a lot and always be moving. So, culture was something that I would constantly witness but was never able to absorb," he explained.
"Culture is very cyclical. I think, at every moment of recorded culture, people try to get rid of some old ideas and adopt new ideas. That accumulated experience definitely gave birth to this body of work where I'm putting two things that don't belong together."
Enrique continued explaining that he wasn't interested in ideology in a granular way, but ideology in a bigger picture. "I choose to work with time," he said, which is why Lost Sanctuary features contemporary and antique objects because they represent two different things. "I'm not interested in defending or criticising anything that's happening now. I want to invite people to observe the process, be in love with the process, and accept that the process is always going to continue—if that makes sense."
As an artist and also a creative director, Enrique's creativity has been pulled in both directions of personal and commercial creativity. "It definitely informs my creative practice in a number of ways. I don't come from a traditional advertising background, so I don't see myself as a salesman—I see myself as somebody who helps brands understand culture. The level of importance that understanding culture has in my work, especially when I work across so many countries, really defines my creative practice."
The artist-in-residence programme is just one of the pillars of cultures that the founders of Else Hotel—Justin Chen and Javier Perez—are creating for the Petaling Street destination. "When we get to the 'art' part of the culture, it's not enough for us to just have art positioned around the walls. Even if you change it ever so often, it's still quite flat," surmised Perez. "There's nothing truly engaging about it. Only certain people will be exposed to it, for example, people that are staying at the hotel."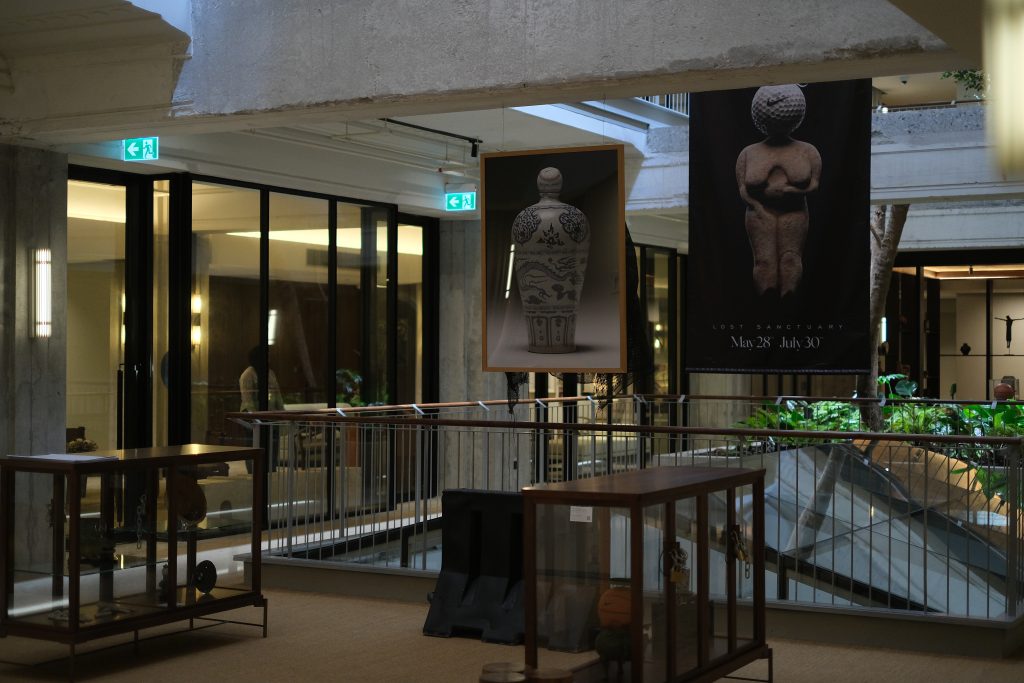 "We always thought it'd be really cool to have an artist in residence," said Perez. "It has to be something living and breathing, and can be engaging." As Enrique was a personal friend of Perez's, everything fell into place.
"The hospitality brand is not necessarily defined just by the physical product, but it's about what are we contributing back to the community to the wider ecosystem," added Chen, on wanting to add to the exuberance that the new-age KL Chinatown is bringing about. "With the artist residency program, this is one of the many initiatives that we intend to launch with music, art, literature, and so forth."
Visit the Lost Sanctuary exhibition by Eduardo Enrique at Else Hotel, Jalan Tun HS Lee, Kuala Lumpur, from 25th May to 30th July 2023.