We know you've got your Barbie and Ken costumes all set for Halloween this October. But this month, celebrating the spooky season is only the tip of the iceberg when it comes to the best events to attend in the city. Hint: A Malaysian-born international singer-songwriter is finally coming home and you don't want to miss it! Keep scrolling to find out who it is.
Grab your friends and start planning, here are some of the best things you can do in KL and PJ this October:
Things to do in KL and PJ in October 2023
Dior Prestige Rose Gallery and Café
Few scents hit as hard—and smell as good—as the dreamily romantic smell of roses. In honour of the launch of their new reverse aging premium skincare serum, Prestige Le Nectar Premier, Dior presents their exclusive Dior Prestige Rose Gallery. Located in Permata Sapura tower, this sensorial rose journey also includes the unveiling of the first ever Dior Rose Café in Malaysia. Now you can enjoy gourmet delicacies like barista made beverages just as you would at any other café—but this time at Dior. Reserve your spot at this prestigious event below!
Date: 15 October to 22 October 2023
Address: Lot 6-03, Level 6, Permata Sapura Tower, Kuala Lumpur City Centre, 50088
Price: MYR50 deposit is required to enter the café
Book here.
Junji Ito's Horror House Exhibition
If you haven't watched the hit TV show Junji Ito Maniac: Japanese Tales of the Macabre on Netflix, you're missing out. Junji Ito is the master of Japanese horror manga for a reason. His Horror House Exhibition is no different, promising to be an immersive experience that drops visitors straight into the twisted mind of Junji Ito himself. With three different spooky halls, visitors will travel in groups of eight while experiencing this house of scares, complete with live actors, special effects, and bone-chilling artwork for the scariest experience possible.
Fancy yourself a horror fan? Put your bravery to the test and book tickets down below.
Date: 28 September to 30 November 2023
Address: Lalaport BBCC, Hang Tuah, Bukit Bintang, 55100, Kuala Lumpur
Price: MYR39 to MYR79
Book here.
Nights of Fright 9
Nights of Fright is back for their ninth stint at Sunway Lagoon and it's promising to be scarier than ever! In honour of Halloween, the theme park is transformed into something straight out of our nightmares with eight haunted houses, one haunted theatre, two scare zones, eleven thrill rides, and two show stages. With these creepy attractions, it's impossible for visitors to avoid jumping right out of their skin.
Date: Every Friday, Saturday, and Sunday throughout October 2023
Address: Sunway Lagoon, 3, Jalan PJS 11/11, Bandar Sunway, Petaling Jaya, 47500, Selangor
Price: MYR98 to MYR138
Book here.
Yunaverse
Did you guess who the international pop singer is through our hint above? Who else could it be but our girl Yuna, coming home to Malaysia to welcome us all into her very own Yunaverse. The long-awaited concert is where lights, visuals, and sounds converge to remind us all how Yuna got to where she is today; a global R&B star who will never forget her roots. Masih Yuna, "Forever(more)".
Date: 22 October 2023
Address: Mega Star Arena @ Sg Wang Plaza, 3, Jalan Bulan 2, Bukit Bintang, 55100, Kuala Lumpur
Price: MYR99 to MYR889
Book here.
Grand Prix d'Horlogerie de Genève (GPHG) Exhibition
Did you know that there are annual awards given to remarkable watches? At this year's travelling Grand Prix d'Horlogerie de Genève Exhibition, visitors will get to browse through 84 gorgeous, potentially award-winning watches put on display. For the first time ever, this special interactive exhibition is making a stop in Kuala Lumpur.
To mark this historic occasion, The Hour Glass will be hosting several exciting activities during the exhibition such as a children's colouring session with Hublot, a watch photography workshop, and even a DIY mechanical clock workshop.
Entry is free of charge.
Date: 5 to 8 October 2023
Address: Pavilion Kuala Lumpur, Centre Court, 168, Jln Bukit Bintang, Bukit Bintang, 55100, Kuala Lumpur
G-SHOCK 40th Anniversary Pop-Up Tour (with 88rising)
Breaking the record for the number of 88rising artists featured in a brand campaign (including icons like Rich Brian and NIKI), G-SHOCK is celebrating their 40th anniversary in style. With a five-stop tour across Southeast Asia, Pavilion Kuala Lumpur will host G-SHOCK's pop-up, promising to transport visitors back in time through the evolution of their iconic watches from 1983 till now. Attendees can even cop an exclusive G-SHOCK x 88rising limited edition t-shirt, only available at the pop-up!
Entry is free of charge.
Date: 23 to 29 October 2023
Address: Pavilion Kuala Lumpur, Centre Court, 168, Jln Bukit Bintang, Bukit Bintang, 55100, Kuala Lumpur
Other World at REXKL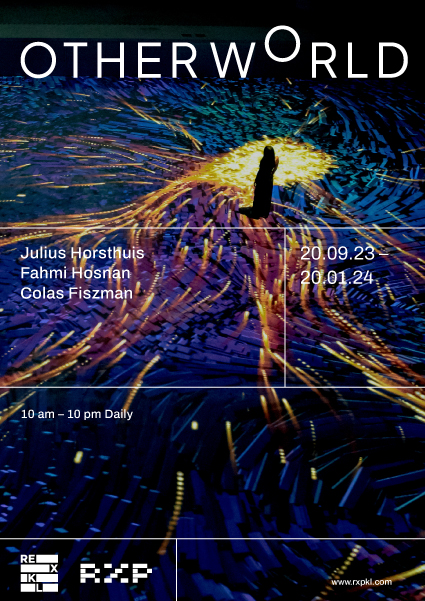 Ever wanted to visit an immersive digital art gallery? Now you can, right in the heart of Kuala Lumpur! The arts and culture centre, REXKL, is featuring three dazzling art exhibits with wide-spanning themes including cosmic, natural, urban, and abstract. This interactive experience is sure to inspire visitors to broaden their views on art altogether. Make sure your phones are fully charged before visiting this Instagrammable hot spot!
Date: 29 September 2023 to 20 January 2024
Address: 80, Jalan Sultan, City Centre, 50000, Kuala Lumpur
Price: MYR30 to MYR80
Book here.
Reflections: Wild at Heart Exhibition
Speaking of art, it's always a great idea to support our local artists and here's an upcoming event where you can do just that. A Malaysian artist based in Singapore, Malini Nathan is coming to Malaysia to showcase her gorgeous palette knife art depicting the untamed beauty, strength, and freedom of wildlife. Held in KLPAC this month, be ready to self-reflect about how in the end, we're all wild at heart.
Entry is free of charge.
Date: 7 to 29 October 2023
Address: Foyer Pentas 2, Kuala Lumpur Performing Arts Centre, Jln Sultan Azlan Shah, Sentul, 51100, Kuala Lumpur
Live Love Labour Festival 2023: The Art of Bersantai
Tired of the constant grind? In need of a break, or at least a lesson in how to take one every now and then? Attend the Live Love Labour Festival, a fair where work is strictly prohibited and only relaxation, reflection, and rejuvenation are allowed. With special workshops and talks focusing on philosophy, lifestyle, and art, this festival is a much-needed lesson in slow-living for us city folk.
Entry is free of charge.
Date: 21 October 2023
Address: Mereka, Solaris Dutamas, Lot 1C, Level G1 (A4 Entrance), Publika Shopping Gallery Solaris Dutamas, 50480, Kuala Lumpur
Book here.
Magical Movie Moments III With The klpac Orchestra
If you're a fan of cinematic movie soundtracks, you're in luck! Magical Movie Moments is back for its third go-around. Listen to some of your favourite theme songs with this orchestral event, but now in style. The Kuala Lumpur Performing Arts Centre orchestra will perform tunes from famous blockbusters such as The Greatest Showman, The Little Mermaid, Aladdin and plenty more. This is a family-friendly affair so be sure to blast this in your family group chat.
Date: 6 to 8 October 2023
Address: Pentas 1, Kuala Lumpur Performing Arts Centre, Jln Sultan Azlan Shah, Sentul, 51100, Kuala Lumpur
Price: MYR60 to MYR100
Book here.
Chivas 'I Rise, We Rise' Event
Every now and again, we're all looking for an excuse to dress up, listen to music, drink, and just have a good old time. It's the little things that makes life worth living, after all. By attending the second ever Chivas 'I Rise, We Rise' event, you'll be able to indulge in street culture, live music, immersive art, and the intoxicating craft of mixology. This October, the global whisky giant Chivas Regal promises to top last year's shindig by joining forces with local and international talents from the fashion, mixology, and music scenes. Curious who these big names could be? Register down below for a chance to party with them!
For limited VIP tickets to the event, check out these upcoming Chivas 'I Rise, We Rise' Pre-Parties:
6 October: Midnight Black, Penang
13 October: Spark Club, Kuala Lumpur
14 October: Yolo Live House, Johor Bahru
Date: 21 October 2023
Address: Mines International Exhibition & Convention Centre (MIECC), Jalan Dulang, Mines Wellness City, 43300, Seri Kembangan, Selangor
Book here.