Kim Jones—the renowned creative mind behind Dior Men and Fendi womenswear—recently partnered with Hennessy for an exclusive collaboration, making it the first fashion for Hennessy and the first liquor for Jones. 
Both encased, the Hennessy X.O Limited Edition has an aluminium second skin whereas the Hennessy X.O Masterpiece is in titanium. The casings resemble bottles wrapped with papers, a spitting image of drapes on textiles in couture-making. It was also a nod to the history of Hennessy, where bottles were attentively hand-wrapped in tissue paper in the 20th century; a method to protect the fragile parchment paper labels. 
Look close enough and you will realise that despite being all covered up, the gradient effect on the Masterpiece mimics the different shades of eaux-de-vie selected by the Master Blender to compose the immaculate Hennessy X.O cognac. 
The oak plateau on the base of the bottle too, reminds us of the barrels used in the process of cognac-making. Jones has undeniably merged both the prestige craftsmanship and the designer's forte—the savoir faire—together, seamlessly and flawlessly. 
"When I saw how the vintage Hennessy bottles were wrapped, it spoke volumes to me about how precious each one is, and how they were handled. I was particularly touched by their history and the sense of how generations have dedicated their time to making each step of the process better and better. That same process also holds true with fashion," shared Jones on the collaboration.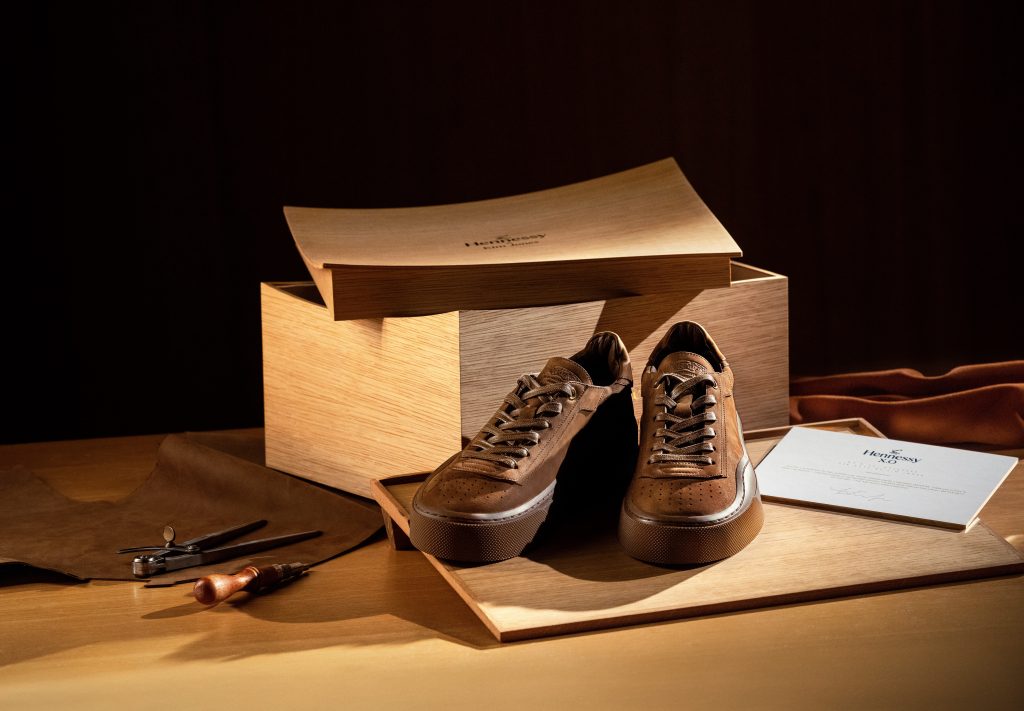 To top the news, Jones also launched a limited edition sneaker the HNY low by Kim Jones, inspired by early basketball shoes. Crafted in an LVMH-owned shoe factory in Italy, not only are the sneakers made with light cognac-coloured nubuck leather—echoing the eaux-de-vie—but the rubber soles also feature imprints of cognac vines. The Hennessy bras armé emblem placed on the heel—a final touché that make the sneakers "feel like you're almost peering into a Hennessy X.O decanter", as Jones put it. 
If you are up for an immersive journey, head over to the Hennessy X.O & Kim Jones Gallery at Pavilion Bukit Jalil until May 7th, 2023 where you can find yourself waking through labyrinth passages and chambers to learn and explore more about the collaboration.
Register here or visit www.hennessy.com for more information.