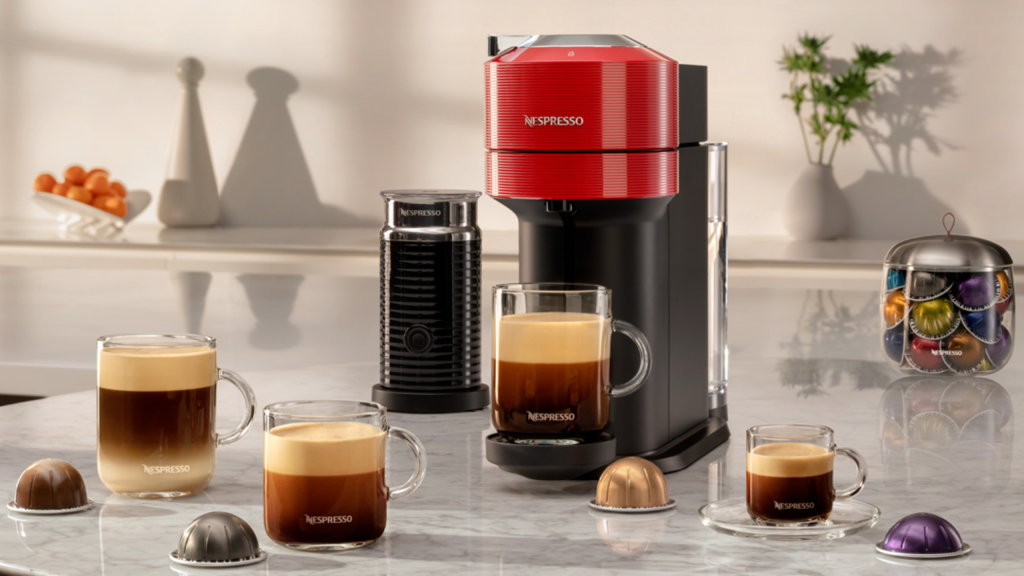 Coffee culture is still alive and well. That freshly brewed coffee—tailored to the individual's liking from the blends, origins, down to the serving techniques—remains a Holy Grail pick-me-up before diving into the day. That said, the tumultuous past couple of years have upended our collective lifestyle so much that coffee savants are looking for an option to have premium quality coffee from the comfort of their own homes.
That is where the Nespresso Vertuo comes in. The latest brewing system reiterates the brand's philosophy to enable coffee connoisseurs to create their own café-quality coffee. But beyond that, the Nespresso Vertuo Next is a lifestyle statement that embodies elegance and sophistication. Its sleek design, which comes in four different colours—Matte Black, White and Cherry Red, and Premium Brown— will surely elevate your home coffee corner. Fashion-forward people who love to have their home reflect their stylish personalities will surely find this new addition an aesthetic upgrade.
Here's where style meets function, and then some more: the coffee machine boasts advanced specs that shall appeal to especially those who know what they want and are in charge of their image, much like GRAZIA women themselves. The Nespresso Vertuo Next promises us great control over each stage of the extraction, thanks to Nespresso's innovative extraction technology that ensures optimal brewing from espressos to long black and even pour-over Carafe style coffee.
Another key highlight here is the user-friendly one-touch button and capsule recognition system. Because let's be honest, some of us just do not have the know-how of coffee-making or the patience to develop the skill set. So, we can stop second-guessing our methods as the machine is designed to do the heavy lifting for us—it will read the unique barcode on each capsule and adjust the flow and volume of water, temperature, infusion time, and capsule rotation to deliver the perfect cup of Joe.
Now, as we all know, the rising demand for longer cups was the initial driving force behind the development of Vertuo—Malaysians are large-cup coffee drinkers—so it is only appropriate that Nespresso is taking the machine to the next level. It offers a range of six cup sizes with the largest being the Carafe Pour-Over Style (535ml), a Vertuo Next exclusive that shall quench our thirst for coffee like never before. Other sizes include Alto (414ml), Mug (230ml), Gran Lungo (150ml), Double Espresso (80ml) and Espresso (40ml).
But when all is said and done, the most important quality that we can universally agree on is the taste. On that front, Nespresso Vertuo expectedly does not disappoint. Treating coffee lovers with 37 types of coffee—in its Espressos, Long Black, Barista Creations and Craft Brew collection—the coffee range has its bases covered and then some, from a full-bodied espresso to a fruity, light-bodied long black. The Carafe Pour-Over Style Intense, in particular, pleasantly surprises with its unique aromatic profile.
So, if you're looking for a coffee machine that combines style, taste, and accessibility, the Nespresso Vertuo Next is the answer. It is the definitive choice for coffee lovers who want to elevate their daily routine with a touch of technology and fashion.
In conjunction with the launch of Nespresso Vertuo on 10 May, Nespresso Malaysia is also hosting a launch event from 15 – 21 May at Mid Valley Centre Court where you can indulge in incomparable Vertuo coffee moments, complimentary tasting, Instagrammable spots, as well as a coffee date with Zahirah MacWilson and Sean Lee. For more information, visit the Nespresso website.