Do you know that the serpent is one of the oldest mythological symbols? A figure of endless evolution thanks to its skin-shedding abilities, snakes signify endless metamorphosis and new beginnings. Move over phoenix, the OG has arrived. Meet the newest drop to come from the Bulgari Serpenti 75th anniversary.
In honour of the 75th anniversary of Bulgari's Serpenti collection, the Italian luxury fashion house renowned for its glamorous, high jewellery has partnered with three visionary artists. Sunwoo Kim, Zhou Li, and Sophie Kitching collectively recreated the iconic Serpenti Forever Top Handle bags, signifying that the evolution of the serpent is alive and well.
Serpenti in Art contains six different bags with each contemporary artist designing two respectively. Let's delve into their creative vision:
Opposing Forces
Designed by US-based artist Sophie Kitching, Opposing Forces is named after the dual nature of a snake and its propensity for transformation. Contrary to popular belief, serpents actually represent both good and evil so snake (affectionate) and snake (derogatory) both exist. Who would've thought?
The white and black calf leather used as canvases in Opposing Forces depicts the differences between day and night. Similar to her Invisible Green art collection, there are strong nature motives present within the colours, petals, and leaves, all alluding to a snake's mysterious nature. The multicoloured enamel scales of the iconic snakehead bag enclosure make for a brilliant tie-in.
Ocean and Forest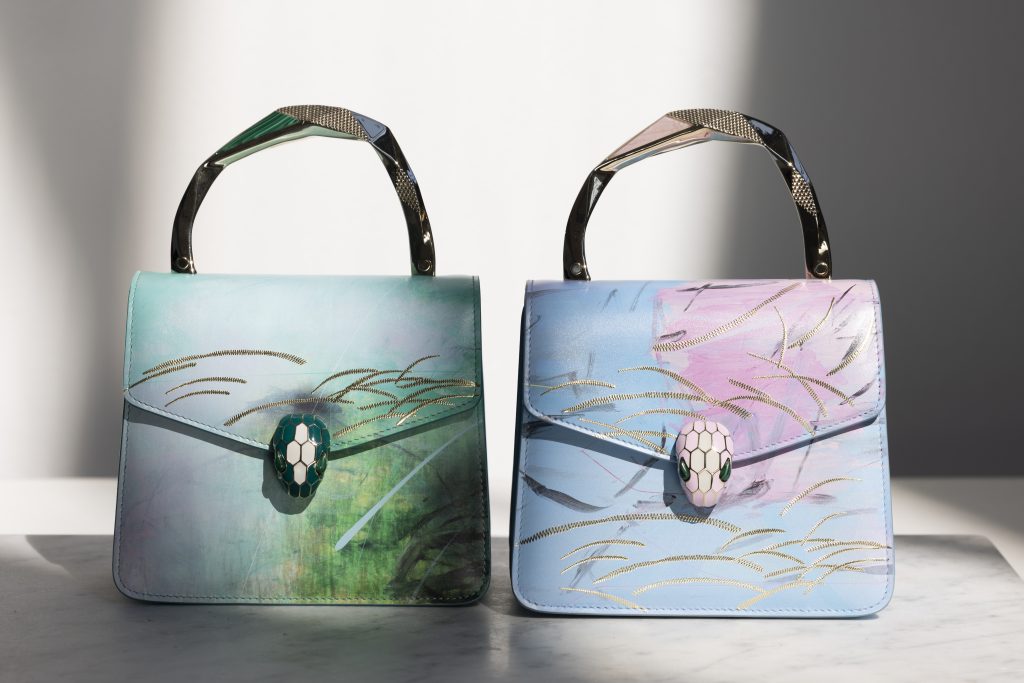 Zhou Li's Chinese heritage is reflected in both the dreamy, nature-inspired universes portrayed in Ocean and Forest. Unique in the collection, her Serpenti Forever bags are topped with geometric brass top handles with golden mirror finishes and gemstone inlays, in the style of her exhibition Metamorphosis – The Ring of Life. Not enough bling? The snakeheads on each bag are made with malachite and pink quartz respectively.
In shades of blue and green that lend her collection its name, Ocean and Forest draws inspiration from her previous work; namely Spring and Landscape of Nowhere: Water and Dreams. Forest especially is reminiscent of Chinese landscape paintings which celebrate the power of nature and the endless circle of life. A reference to the ouroboros, maybe?
Day and Night
Korean painter Sunwoo Kim is widely noted for his depiction of the extinct dodo birds (may they rest in peace) in his art pieces. Signifying humanity's never-ending search for freedom and happiness, these long-gone birds are beautifully illustrated in a brightly lit, verdant forest in Day and a starry, nocturnal sky in Night. Completed with snakehead enclosures dotted with lapis lazuli and onyx for eyes, Day and Night celebrates the deep bond between the mythical snake and the creative world of art.
The exclusive collection will be revealed amid Bulgari's Serpenti in Art event during Paris Fashion Week 2023. Aptly, there will only be 75 pieces of each bag available for sale. What a way to celebrate a Diamond anniversary!