To our collective relief, baggy trousers are still the silhouette you'll be seeing on the streets and wearing for a while—skinny jeans are still showing no signs of returning. While the slouchy fit exudes a nonchalant attitude, on the flip side, it might also make you look too effortless, especially on occasions when you'd want to make an impression.
They might look stunning on New Jeans, Bella Hadid, or Dua Lipa as they swept the gritty streets of New York with their floor-grazing baggy jeans, but we're not Bella Hadid. The easy formula is "little shirt big pants" or "big shirt big pants"—Tiktok said so. But there is too much room for errors? And the ultimate concern is: how do you actually make them look good? 
We teamed up with Levi's Malaysia and got you some baggy trousers style inspo. Before you reach for a safe baby tee or that over-worn, oversized band tee, here are more options you can consider.     
Double Take
As the influence of the 90s and 00s continues to dominate the pop culture and the street style scene, denim on denim is back and stronger than ever. When we double the denim, most would typically pair two distinct shades: a lighter wash with darker blue. However, pairing matching denim washes is tried-and-true because similar washes create a clean canvas. Many would suggest that denim-on-denim is a faux pas, but not when you spice it up with a pop of red. Though cherry red is the colour of the season, a bold red never goes out of style (iykyk Swifties!) In our case, we picked a fiery pop of red to go with a darker denim. Decking primary colours together, if done right, is a bold yet classy combination. 
Daddy Cool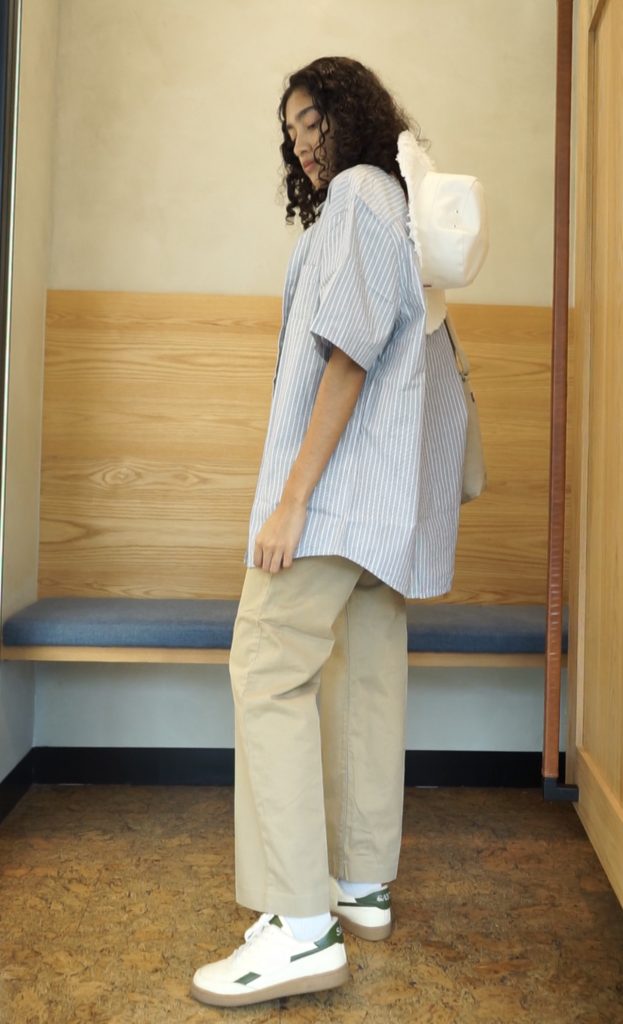 On sunny days, we wear khakis. Khaki trousers, chinos especially, never really go out of style—dressed up or down, it's your call. Sometimes, though, they do conjure an image of a dad at the golf course. Hence, a no-nonsense blue-striped button down with short sleeves (we found this in the Levi's men section) is always a great choice to set the undertone off. It is however, not a head turner, but rather a day-to-day look to run errands. The tip here is to top it off with accessories—we opted for a drawstring bucket hat with frayed ends, and accentuate the waistline with a scarf that serves as belt, adding more personality that will easily elevate the look. 
Sweater Weather
The common misconception is that baggy fits make one look sloppy, but we proved otherwise. Baggy jeans with a baggier cardigan over a crisp white button down screams for sweater weather, a do-nothing-but-sip-on-latte day. Couple that with a sleek slim tie underneath the cardigan—even if it is in bright and cheery yellow (we only spotted it in the Levi's physical store but not online yet), instantly turns it into a work-appropriate attire. Baggy fits do have the tendency to make one look shorter and to fix that, we jazz things up with a pair of pointed-toe lace-up boots to elongate the overall look. 
Baggy trousers, whether denim or chino, is a great piece to style. The key here is to never hesitate to add your own voice to the formula, be it trivial or ostentatious. That being said, customisation and personalisation also play a huge role in styling—drop by Levi's Tailor Shop at the Suria KLCC to personalise your very own. You can get them embroidered, bejewelled, patched, or even swapped the buttons and recreate your trousers silhouette entirely with the help of the skillful tailor in store. Bring your own designs or if you are a fan of New Jeans, you can also pick the designs they were seen wearing in the campaign and recreate one for yourself. 

Shop now at Levi's Malaysia and for more information on the customisation services.