Earlier this Spring, Longchamp tapped Kim Se-Jeong, a South Korean singer and actress as their new ambassador. Spending an insouciant Sunday morning at the hippodrome, Kim Se-Jeong (with her Box-Trot bag, of course) is taking over the long field for Longchamp's Fall/Winter 2023 Campaign aptly named "At The Race", one that adds a twist to the archetypal sartorial choices—from the jockey at the stables to the racegoers.
A legendary leather goods house, Longchamp is inextricably connected to horseracing. Founder Jean Cassegrain decided to name the fashion house after the Longchamp Racecourse in Paris, as it is the site of the oldest mill grain and Cassegrain—the family name of the founder, which also translates "mill grain" in French. This Fall-Winter, Longchamp is retracing its roots following Cassegrain's footsteps, unveiling a collection that highlights the equestrian spirit and the savoir-faire shared between Longchamp and the sport.
Horse racing is filled with vibrant colours—especially the racing silk seen on jockeys. A nod to the jockey—Longchamp's renowned logo is a jockey on a race horse—the campaign rolls out pieces with diagonal striped pieces and vivid colour palettes against the backdrop of lush green, and even eye-catching prints like Sillitoe checkers that resembles racing flags. The fashion house also took the opportunity to revisit one of their classic motifs—the sailing stripes—a common print that can be found in the audience pit of a regular horse racing event. Taking both warmth and flair into consideration, the collection mischievously played around with textures like shearling, lambskins and corduroy that are great for layering as  Creative Director Sophie Delafontaine puts it: "It lets you create the cosy, cocooning feel you need in winter, while still looking chic and casual."

Trotting on the field is the Box-Trot bag, one that has been on our radar thanks to its timeless and versatile day-to-night silhouette, adorned with a gold medallion. The good news is, we are getting new colours this season, cobalt blue and grass-green. For those who adore the noughties style, the Box-Trot is now available in a baguette shape. A new addition to the house is the Epure line, which mimics the shape of a binoculars case—a must-have in every horse race to enhance the experience. The emblematic Le Pliage tote too gets a makeover in line with the theme, decked out in colours of the racing liveries.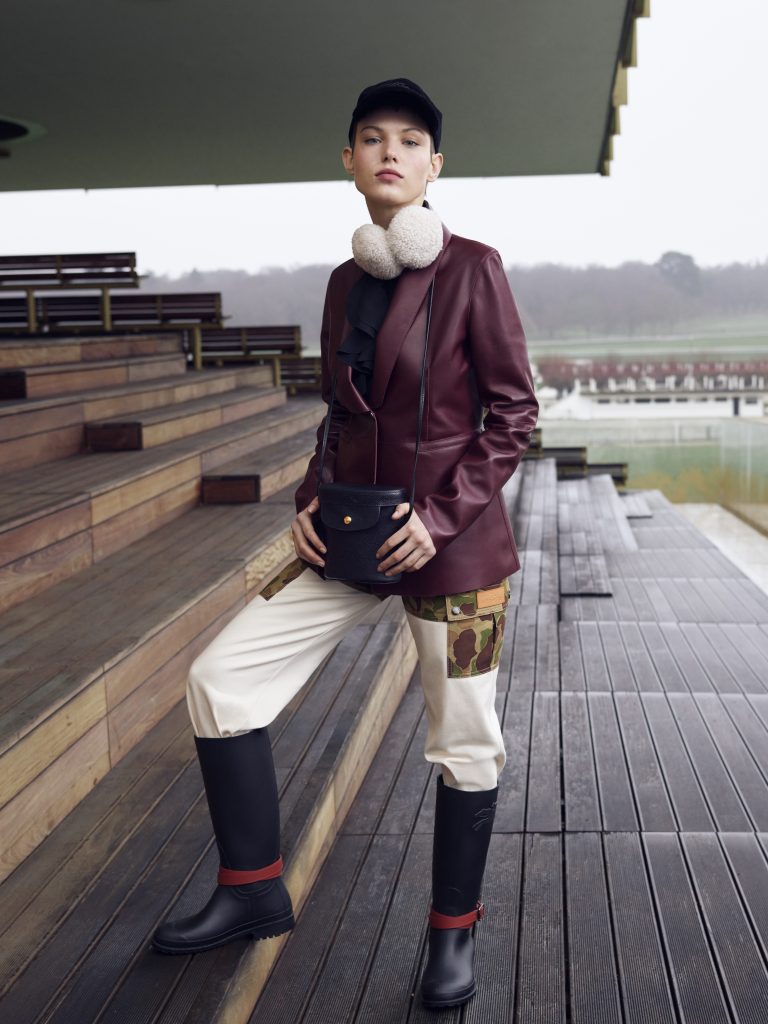 No horse race is complete without a trusty pair of boots, be lace-up or rain boots. Paired with trousers tucked into the high boots, Se-Jeong strides the yard with her charm oozing with a dandy aura, a grooming preference appreciated among the riders who trot, canter and gallop across the yard while still looking effortlessly refined—something the eminent fashion house Longchamp shares.
Check out the full collection here.