Not a month after dropping a fast-paced Pre-Fall 2023 collection in Seoul, South Korea, Nicolas Ghesquière transports us to a whole new world with Louis Vuitton Cruise 2024 at Lake Maggiore in Italy. The excursion marks the French house's first-ever show in its neighbouring nation—an apt choice given its newly appointed CEO, Pietro Beccari, is Italian.
The low-key neighbour of the star-studded Lake Como, Maggiore sits along the sprawling border of the Swiss Alps. But unlike the Amalfi's vibrant coastline, Italy's Northern lakes possess a more esoteric beauty. "There are beautiful places to go in Italy," Ghesquière explained, "but the lakes are so mysterious."
Though the show was set to take place amidst the gardens of Isola Bella, a tiny private island that has been owned by the Borromeo family for 500 years, the weather got in the way. Rain may have inhibited a sunset show and afterparty, but an earlier runway was staged for imagery while the LV team seamlessly pivoted to an indoor show that saw Catherine Deneuve, Oprah Winfrey, and Cate Blanchett, plus 1,000 or so other guests under one roof.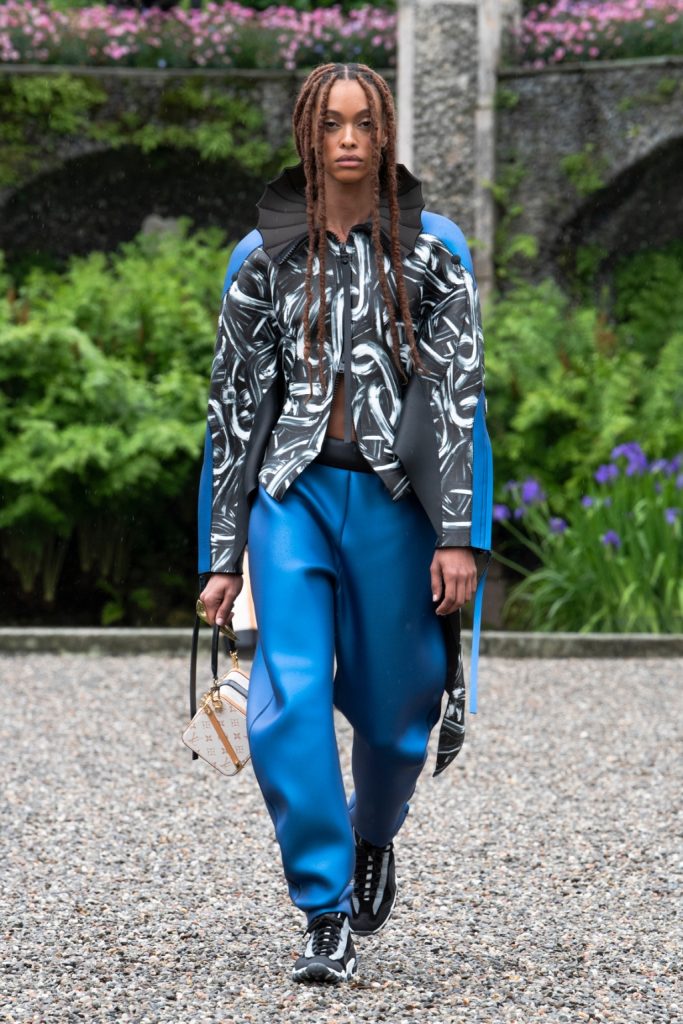 As the first few looks came down the makeshift runway, it was clear why Ghesquière chose a waterside venue. With gill ruffs, fin-like fluted hems, neoprene sets and water droplet embellishments, models appeared as water natives.
"We started with the idea that the girls were coming from the water, like mermaids of the lake, and they're transforming into something else," the creative director said of his inspiration.
But instead of the typical designs we see when referencing the fairytales of sirens, Ghesquière pushes the boundaries of our imagination, creating a world where creatures of the lagoon don't hide in the weeds but stand formidably.
Further along, the undertones of sci-fi athleisure and overt aquatic motifs evolved. Hard fabrics conceded into intricate shapes, scales were arranged in floral patterns, and tailoring sharpened up. Shoes were either slouched boots or sporty sneakers, but the accessories that really stole our gaze came in the form of baroque headgear, each one custom-made for the show by a Roman atelier that creates for operas and films.
The result was a romantic journey where mermaids emerge from the lake, find their own way, and ultimately flourish—represented in the seven ethereal ruffled dresses that made up the closing looks. A mixture of silk, organza, and lace, the pastel-hued gowns were a striking departure from Ghesquière's usual unisex approach to design. But where he made his touch known was in the sculptural shapes of these pieces, each one uniquely draped and taking life as the models walked for large-scale impact.
This article first appeared on GRAZIA International.