Best for Style and Substance
Capri Palace Jumeirah, Capri
Sitting at the heart of Anacapri, a town located below the slopes of Monte Solaro, the hotel is full of style and character, replete with eye-catching works of contemporary art set against cream palazzo-style interiors. When it comes to cuisine, you're in for a treat. The Capri Palace plays host to the only two Michelin-starred restaurant on the island, L'Olivo, and celebrity hotspot Il Riccio Restaurant & Beach Club, which sits just moments from Capri's famous Blue Grotto.
We Say: As for the spa, forget whale music, overly scented facials and mediocre massages, this place takes wellness seriously. Walk through its doors and you're immediately enveloped in the sort of calming, LA-type decor that wouldn't look out of place on Rosie Huntington-Whiteley's Instagram grid.
Try This: Leg School. Developed by the hotel's medical director, Professor Francesco Canonaco, the programme is designed to improve circulation, increase mobility and temper water retention. You kick back in the spa's beautiful terrace area as a therapist coats your legs in clay and wraps them in bandages soaked in a secret formula that boosts lymphatic microcirculation. You let the concoction work its magic before showering it all off and walking through the spa's hydrotherapy circuit.
Best for Old Hollywood Glamour
Hotel Santa Caterina, The Amalfi Coast
Known as the grande dame of the Amalfi Coast, this five-star hotel offers panoramic views of Amalfi Bay and is only a short walk from the historic town centre and its limoncello stalls.
The hotel first opened its doors in 1904 and has since proved a glitterati magnet. From the likes of young aristocrats midway through their Grand Tour, to Elizabeth Taylor and Richard Burton, and Brad Pitt and Angelina Jolie.
We Say: The jewel in its crown is the Beach Club, accessible by a glass-fronted lift that carries you down through lush gardens. Built into the cliffside, the Beach Club has direct access to the sea, a bar and a saltwater swimming pool.
Try This: For full-on authenticity, try the Oro di Amalfi Lemon Massage, a full-body treatment that uses a delicate lemon-based oil to smooth and brighten skin. It's an immersive experience–you breathe in uplifting citrus scents throughout before being handed a glass of delicious homemade lemonade to sip afterwards.
Best for Five-Star Downtime
Crillion Le Brave, Provence
The cherry on top of a charming Provençal village, Crillion Le Brave is spread across nine 17th-century stone houses. From under-the-stars dining on the wrap-around terrace to sunbathing next to the turquoise pool that overlooks the vineyards below, the opportunities to soak up the peaceful pastoral surroundings are endless. Rooms come with terracotta tiles, original-feature beams and unique antiques as standard and the two on-site restaurants serve up a masterclass in farm-to-table cuisine.
We Say: Wander past the church, through the fig trees and down the cobbled steps to the Spa des Ecuries; where the converted former stables house three luxury cabins, each lined with lavender from nearby fields and products from new brand partner, Tata Harper. Nicknamed the 'queen of green', Tata's products pride themselves on their 100% organic and natural credentials.
Try This: Tata Harper Resurfacing Body Treatment, which incorporates dry-brushing and thermal gua sha stones to gently exfoliate, ease tension, stimulate blood flow and aid lymphatic drainage.
Best for Laid-Back Luxury
Quinta da Comporta, Portugal
Among a rugged and rural landscape made up of rice paddy fields and sand dunes, in a sleepy fishing village in the heart of Comporta sits this stupendously chic hotel. White-washed farmhouses, many of which used to be grain stores, are filled with wicker and wood, lending a coolly casual feel that is emulated in everything the property does–from its food and drink, to its service and spa treatments. While away days by the infinity pool, devour some fresher-than-fresh seafood or borrow one of the bikes for a pootle around the village. Situated in a giant barn with floor-to-ceiling windows, the spa, with its own pool, is sublime.
We Say: This is barefoot luxury at its finest, where doing nothing is highly encouraged, so line up some good podcasts and pack some page-turners.
Try This: The Complete Ritual which includes an invigorating body scrub to boost sluggish circulation and a nourishing rice wrap, a nod to the agricultural surroundings.
Best for Playtime in Paradise
Niyama Private Islands, Maldives
This five-star resort spans twin islands–Play and Chill. Consider Chill your romantic getaway and Play a high-energy haven made for families and surfing aficionados alike. Niyama is the only luxury surfing resort in the Maldives, an accolade that attracts the likes of world surfing champion Gabriel Medina to the islands year after year. Whether you're a seasoned swell seeker or a total beginner, Niyama's surf guides have you covered. Practise the basics in Niyama's placid lagoon or book in for coaching sessions to hone your technique. Choose from over-water villas or beach villas built into the lush island fauna. If you plump for a pool villa, make sure to ask your Thakuru (butler) about the breakfast experience. It comes delivered on a floating tray.
We Say: If you've toyed with the idea of the Maldives but the thought of doing nothing more than sunbathing all day makes you tetchy, Niyama is your answer.
Try this: Head to Drift Spa and book in for an Ayurvedic consultation to inform your treatment choice.
Best for Sun-drenched Escapism
Macakizi, Bodrum
Built into a hill that overlooks glittering views of the Aegean, framed by lush olive trees, plants and bougainvillea, this hotel has long been a magnet for the jet set. On the seafront deck sit sleek loungers and oil-slicked limbs. As the sun soars, cocktails flow, and the vibe becomes decidedly more party-ish, not least when the yachts start to dock.
The food is exquisite, running the gamut from buffet to tapas to fine dining, with an extensive wine list. Indulgence can be offset in the glass walled gym, or if being scrubbed of your sins sounds more appealing, head to the spa for a traditional Turkish hammam. Breakfast is served in a bohemian pavilion, filled with cool coffee-table books and modern art, while in the bedrooms things are refreshingly simple.
We Say: Plump for an al fresco massage, where the bed overlooks the bay.
Try This: Treatments come courtesy of Nuxe and can be personalised, whether you want to get rid of a hangover or hike-induced aches and pains, reduce stress or improve your sleep.
Best for Stress Relief
Island Shangri-La, Hong Kong
Nestled within one of Hong Kong's most luxurious addresses, the Island Shangri-La has launched this new wellness concept. The poetically-named sanctuary has been designed by renowned Spanish interior designer Lázaro Rosa-Violán to bring lush elements of nature—think: curving walls in light wood, inlaid marble floors with stunning geometric patterns and bursts of vibrant greenery dotted throughout—to the calming space.
From relaxing facials to physiotherapy, osteopathy, and more, the urban oasis promises to soothe the stresses and rigours of modern life with an extensive offering of holistic experiences and therapeutic treatments. With a total of 10 deluxe treatment rooms, you will be spoilt for choice when you check in for a relaxing treatment or two. For the couples who enjoy the treatment experience together, Yun Wellness also boasts two rooms designed especially for the purpose.
We Say: Take a few minutes to bask in your post-treatment glow in the Sanctuary, where you can enjoy crystal- and fruit-infused water, fresh fruit and restorative herbal tea before stepping back into the hustle and bustle of daily life.
Try This: The 90-minute Men's Million Dollar Facial, which promised to cleanse and heal the skin while controlling excess oil and sebum with the use of products from top Swiss skincare label Dr Burgener. Your dehydrated skin will look revitalised, glowing and moisturised.
Best for The A-List Experience
Beverly Hills Hotel, Los Angeles, California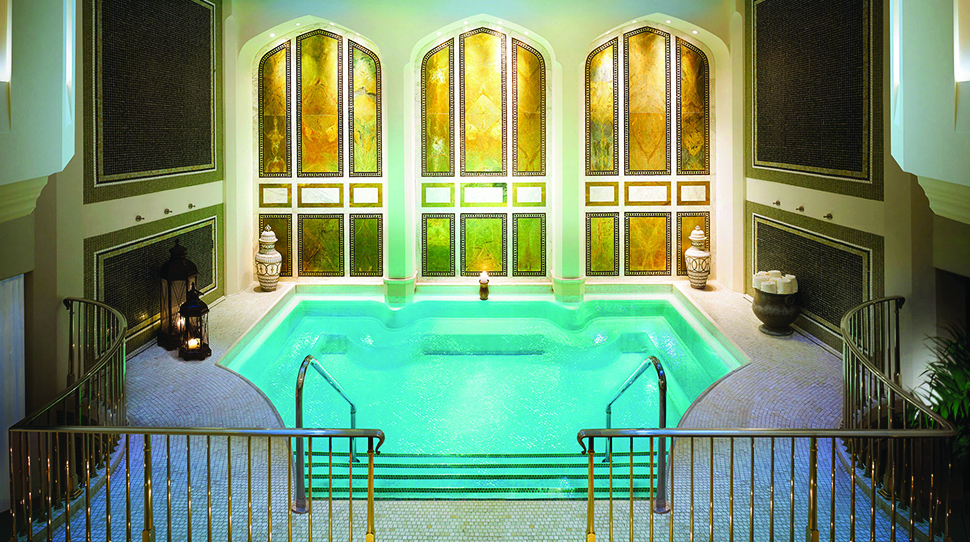 Few hotels can claim to be as legendary as The Beverly Hills Hotel. A stone's throw from Sunset Boulevard, the aptly nicknamed 'Pink Palace' is steeped in old Hollywood heritage. The iconic Polo Lounge (make sure to book in advance) serves up signature cocktails with a side of star-spangled people watching–try the Polo Patio Spritz. And then there's the pool area. Recently refurbished, it evokes Mad Men levels of glamour. Elizabeth Taylor loved this place so much that she honeymooned here with six of her eight husbands.
We Say: After ordering pancakes at the Fountain Coffee Room, head to the pool with its underwater speakers playing classic movie soundtracks.
Try This: Fabulous and functional, the Leaf Wellness Massage calls on cannabidiol leaf balm to soothe aching muscles and joints.
Best for Hitting Pause
Alila Ventana, Big Sur, California
Boasting 160 acres and arguably the best views in the Big Sur, Alila Ventana implores you to pause, regroup and soak up the surrounding nature. With redwoods scaling the surrounding Santa Lucia mountains and endless views over the Pacific coastline below, it makes you forget about everyday stresses and focus on the now. Complimentary activities include yoga, Tai Chi, photography workshops, foraging and more.
We Say: After exploring, unwind by one of the hilltop pools or the Japanese hot baths. Then wander down to Spa Alila for some next-level R&R.
Try This: The Talisman Invigorate treatment massages aching muscles with yoga-like stretches.