Malaysia's film industry is clinching another win and this time around, with a seal of approval from the prestigious Cannes Film Festival. Ghost Grrrl Pictures' debut feature Tiger Stripes has been selected for Semaine de la Critique or Cannes Critics' Week—a parallel section of the festival that focuses on a director's first or second film—and is in competition for the Caméra d'Or prize.
The Malay-language horror is the first female-directed Malaysian film to be featured in Cannes, making this selection a significant feat for the country's growing film industry. It is also a promising sign for female-led stories as Tiger Stripes centres on a 12-year-old girl who struggles with puberty as her body morphs in a terrifying way, before embracing her true self to freedom.
We spoke to director Amanda Nell Eu ahead of the film's premiere at the 2023 Cannes Film Festival that unfolds from 17 to 25 May.
What is Tiger Stripes about and what inspired you?
Tiger Stripes is a film that talks about empowerment and embracing your true self. It's a film for little freaks and monsters who feel like they don't fit into society or are shunned because of it. I want to tell young people out there to love and embrace themselves, and to stand strong for who they are because they are not alone. 
What were some of the challenges in getting the movie off the ground?
The pandemic was a big challenge for us as we had planned to shoot the film in 2020. Postponing the film was a very difficult move and it didn't get any easier even as we started shooting in early 2022 as Malaysia was still going through the Covid outbreak. It was definitely a lot of work to ensure that everyone was safe, having the cast and crew members do the Covid test twice a day to keep a tight bubble during production. That said, I'm glad we got through it and I think the tight bubble actually made us all closer as a team and I really felt that we all supported each other so much during the process.
What was it like working with first-time actors and, on top of that, children?
Wow, it was incredible! I am just so proud of my girls and their immense talent was beyond all my expectations. We had many workshops together to prepare for their roles and we also discussed many themes relating to the film regarding body image, bullying, support for each other, and self-confidence. They are great examples of what the film is fighting for and also amazingly intuitive and talented when it comes to their performances. I couldn't ask for anything more, I'm still so impressed by these girls.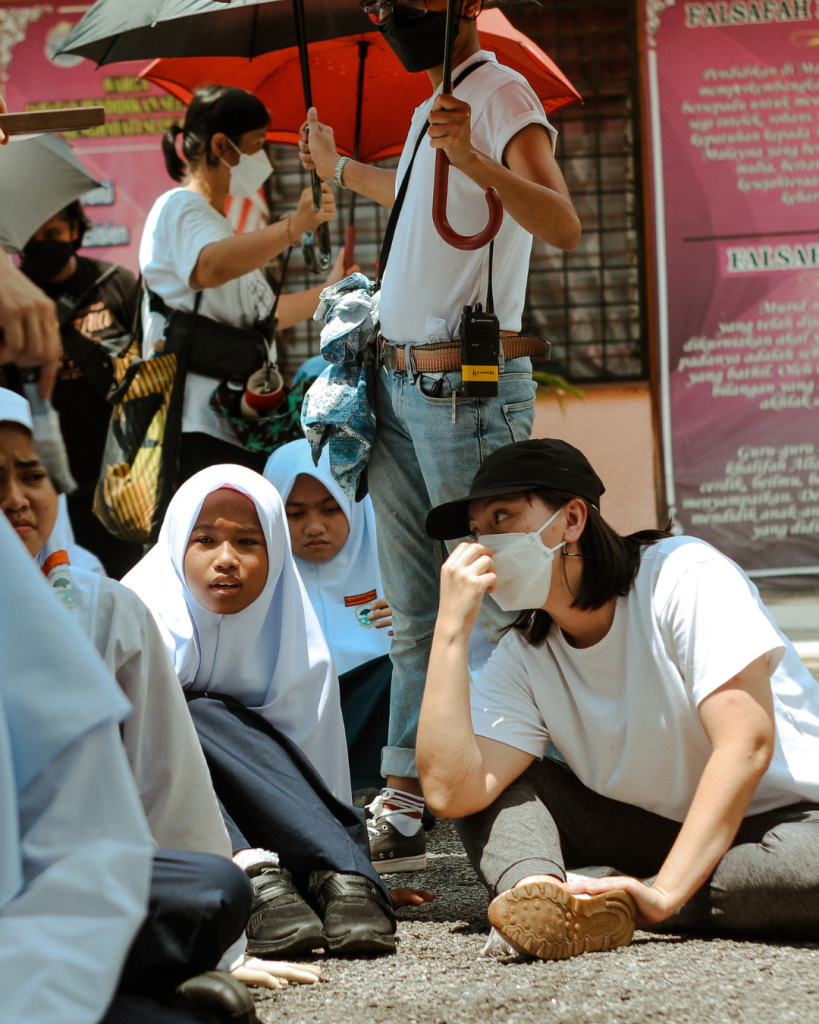 Which scene was your favourite to shoot and why?
This is quite hard to choose. We had some nice scenes at a waterfall, which were very challenging to shoot as they involved many elements, but everyone was super focused on getting the shots done. And after that, we would break for lunch and everyone would enjoy the location, swimming in the waterfall. It was hard work but sometimes you have to enjoy the beautiful locations that a film shoot takes you to.
What are some of your influences for Tiger Stripes and in general, as a filmmaker?
I'm influenced by everything around me, from the people, my peers, photography, music, and art. I don't really have anything specific. I guess when you watch the film you will see many elements of things that I am a fan of. I love pop culture a lot and I think a lot of the film's energy comes from that.
When did you find out about Cannes and how did you react to it? Who was the first person you told?
It was unreal. I got a video call from my producer, Foo Fei Ling, in the evening and she was already crying on the screen. I obviously started screaming with joy and then suddenly felt like I couldn't feel my fingers and my body, I guess from the adrenaline rush. I had to lie down from the excitement.
Tiger Stripes has broken the glass ceiling for female-led movies and female filmmakers in Malaysia. What's the takeaway that you hope the audience leaves with after seeing the film?
It's definitely a huge step for women in filmmaking and a great message for the film industry to be even more inclusive and to celebrate diverse voices. I hope the audience is able to resonate with the themes and topics of the film, which are actually very universal.
How are you preparing for your Cannes trip next month?
We still have so much to do. We are bringing some of our cast members with us as well and I can't wait for everyone to meet them in Cannes! A lot of planning is involved with that. Of course, there will be more updates and materials to be released via our Instagram account, so do stay tuned for more.
Any filmmakers you're excited to meet?
I have never been to Cannes before so I'm not sure how everything works, to be honest. I'll just go with the flow and see what happens during the whole experience! I do hope that I have some time to catch some films that will be screening there.
When can Malaysians watch the film?
Following Cannes, the film will do the international film festival circuit for the rest of the year. After that, we hope to release the film within our region but I have no specific dates yet, so do keep following our Instagram account for more updates on this.