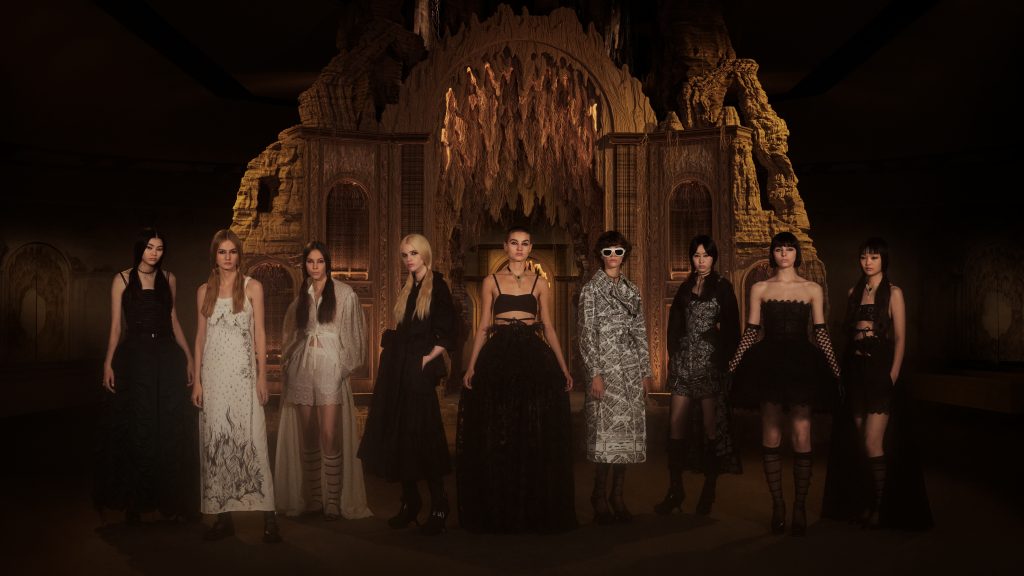 Pants look very nice on some women, but they do not belong in a restaurant any more than swimming suits," declared La Côte Basque in 1968, the "temple of high society" once patronised by the likes of Truman Capote and his dazzling "swans". Ironic, because it was precisely one of his swans who rebuked the New York establishment's dress code, in a performance of sheer bravado and theatrical defiance. Having been denied entry by the restaurant's maître d' for wearing trousers, socialite Nan Kempner stripped hers to the floor–the very first of Yves Saint Laurent's now iconic le smoking–and promptly glided her way through the restaurant in nothing but a jacket-cum-minidress, exposing her exceptionally lithe legs. In today's context, such an act would have most certainly been considered social suicide (let alone documented on Instagram or TikTok), but for the late heiress, this form of rebellion was an allegory for things to come, which by the end of the millennia would see it go from provocation to self-preservation.
It is worth mentioning that prior to Kempner, such expression through clothing had already been entrenched among the bold and beautiful. Perhaps catalysed by the First Wave of Feminists in the early 19th and 20th centuries, the post-war tweed suits of Mademoiselle "Coco" Chanel revolutionised the art of dress, liberating women from the restrictive corsets of Belle Époque. Though defined as the "Beautiful Era", the famed French couturier eschewed its stiff appeal and looked to sports–and menswear–especially that of her then-lover, the Duke of Westminster's wardrobe. Here, Coco Chanel crafted her first two-piece set; a slim skirt and collarless jacket both masculine in cut, yet fluid in movement. "Nothing is more beautiful than freedom of the body," she once said. Words that changed the course of fashion as we know it today.
But freedom had come with a price. Four decades later, midriffs were bared and hemlines were raised–both hallmarks of the Swinging Sixties' sexual revolution (see: Roger Vadim's Barbarella). However, the emancipation of silhouettes typified by Mary Quant and Courrèges was swiftly met with retaliation. Case in point: at the 1968 Miss America Protest, picketers symbolically threw a number of accessories like shoes and innerwear into a "Freedom Trash Can", which they deemed as "instruments of torture". Similarly, activists including Betty Friedan(who penned The Feminine Mystique, no less) shunned the idea of pandering to the male gaze, referring fashion as tools of objectification. Go-go girls of the Mod subculture were often subject to this ridicule. It surely didn't help either that much of this debate also meant that women were considered scapegoats, with victim blaming being at the forefront of this push-pull narrative. In the same year of the seminal Miss America Protest and Nan Kempner's infamous denial of entry at LaCôte Basque, the FBI discovered a 17% increase in sexual abuse cases–up 93%over the course of 1960, according to a 1970 article from the New York Times. Gloria Steinem said it best: "When we were told to give up our miniskirts for midis, there was a semi-conscious boycott on the part of American women. We were fed up with being manipulated."
Evidently, fashion has an uncanny knack for capturing the zeitgeist, especially in today's incredibly "woke" landscape. And as a result of rapid globalisation, designers have become more than just tastemakers–they're activists, too. Now with the runway as their stage, public discourse has taken a playful turn, with slogan tees and colourful beanies (remember Dior and Missoni in 2017?) replacing picket signs and freedom bins.
It's also perhaps the reason why this season's collections have become more fearless than ever before. Considering the global uprising stemming from moral policing (like the tragic death of Iranian law student Mahsa Amini, for starters), misogynistic rhetorics has paved the way for creative whimsy, culminating in a triumphant display accented by grit and resolution. Indeed, we would be remiss not to acknowledge how collective discord could propagate current trends, but just like the relaxed fineries of the '20s and psychedelic minis of the '60s, this season's offerings have become a reflection of our attitudes: a subversion towards the status quo, patriarchal agencies, and everything else in between.
On the runway at Louis Vuitton, this sentiment couldn't be any clearer. Oversized zippers (the largest ever manufactured!), trompe l'oeil belt buckles and sculptured leathers reminiscent of Frank Gehry's deconstructivism gave a new proposition to punk's rebellious streak. And lest you forget about it, it was punk, by way of the late and great Dame Vivienne Westwood, which blurred the lines between advocacy and design. Said Nicholas Ghesquière, the maison's creative director, proportions were exaggerated to disrupt the codes of femininity."'Pretty tough', that was something we were talking about … the idea was to look at something pretty, something sweet, and to see in those elements what strength they have," he described in an interview. Take for example the collection's shift dresses which explored innocence in a pseudo-menacing way: Lolita-esque bows were made in patent leather, and if that wasn't enough, lace tights (a recurring accessory this season) made on a Raschel machine were studded, this time in gleaming crystals.
Speaking of lace, boudoir tailoring also made a powerful impression. Although not explicit as Louis Vuitton, the sheer romance of Fendi and Prada was made for more subdued underpinnings–some, quite literally. At the former, creative director Kim Jones punctuated translucent racerback dresses with punches of neon bralets and tankinis, while co-conspirators Miuccia Prada and Raf Simons (quite ingeniously) transformed whisper-thin knits into dreamy yet risqué pencil skirts, worn irreverently with crumpled turtlenecks. In fact, when put together,these pieces looked as if the model's clothes had been torn apart–much like the effect you'd get from ripping a piece of paper, but one that tells a tale of blatant desolation. "Life and humanity craft the clothes–not embellishments, but traces of living, leaving marks," said Mrs Prada in a prepared statement for the collection." This idea of clothes shaped by humanity is what excites us." Indeed, it was exciting to see imperfections be perfected; for too long have women been expected to appear a certain way, and behave in a certain way. And for once, wouldn't it just be refreshing to embrace the beauty of our flaws, rather than to punish it?
Interestingly, it was these flaws that led Maria Grazia Chiuri to her latest inspiration for Dior. Known for her black mourning dresses, Catherine de Medici, the Italian noblewoman-turned-Queen of France was ever a devoted mother and wife, later vilified for her involvement in the "occult". However, history fans and scholars would do well to remember these claims were nothing more than just hearsay, and it was instead her tenacity and ambition within a male-dominated court that gained her the moniker the "Black Queen". For Chiuri, this meant recalibrating the house's codes with a slightly sombre flair, which was then deconstructed to insinuate emancipation. In this regard, cannaged crinolines had taken the form of this season's New Look silhouette, adorned in intricate broderie anglaise and paired with a bralette. Elsewhere, this "peekaboo" appeal was replicated, seen in various racy variations of a communion dress, as well as a bustier mini, stripped to its bone. Simply put, de Medici's corset was finally freed of its restrictive connotations.
So if Dior was a lesson in pensive femininity, then perhaps Chanel was a study in empowered fragility. With relaxed cuts being the house's strongest suit (pun intended), creative director Virginie Viard made a case for the urban-cool "It" girl who truly dgaf. It's a spirit many of us wish we had, and one Viard equates with the maison's long-time ambassador, actress Kristen Stewart–broody, unbothered, and sophisticated all at the same time. The carefree pairing of slinky slips and barely there shorts under slouchy tweeds encapsulated this slant succinctly, likewise for a gown crafted in diaphanous organza which bared all save for the teensy tap shorts worn inside. Would the everyday woman dare to consider these suggestions daily? Perhaps not, but one could certainly dream–and that's a wonderful start.
Of course, it may seem simplistic to reduce these trends to nonchalant frivolity at first glance, however, there's a certain resistance at work here, which seemed to go against authoritarian expectations. For anyone who had been reading the news, such daring displays of accoutrements this big a scale couldn't have been more tongue-in-cheek. Following a dispute over foreigners wearing bikinis on the island of Pulau Besar in Malacca, authorities began talks of introducing signboards permitting sartorial indecencies. And most recently, a woman was denied entry to a police station for wearing Bermuda shorts after being involved in a car accident. Even celebrities were not exempt from criticism. When pop sensation Billie Eilish shared a picture of herself in a corset last year, the Ocean Eyes singer revealed she had lost 100k followers on Instagram. In an interview with Elle USA, she elaborated," I lost 100,000 followers because of boobs. People are scared of big boobs." It was later learned that Eilish, now aged 21, felt insecure about wanting to wear a tank top. "It wasn't even a provocative shirt. But I know people are going to say, 'Holy f**k, she's dressing sexy and trying to make a statement.' And I'm like, 'No, I'm not. It's 500 degrees and I just want to wear a tank top.'"
Now with social media at our fingertips, the conversation is more nuanced and diverse than ever before. And given the state of social dismay–not just in our backyard, but abroad too–this Spring/Summer '23 parade serves as a fantasy for many, armed with a resounding message of personal agency and freedom of expression. It speaks for the hijab-wearing heroines, the bikini-clad sun-seekers, and the tank top-sporting renegades. Because in this Fourth Wave of Feminism, fashion is more than just the sign of the times–it's our saving grace.
Words by Amy Yasmine.
This article was first published in the print edition of Grazia Malaysia March 2023.