For the launch of their new monthly series "Ignis At the Table", Chef Lroy and Chef Desmond mapped out a refreshing gastronomical menu for all the grill enthusiasts, starting with a six-course menu and sake pairing selected by Malaysia's first Master Saké Sommelier, Danny Leong. There's a common misconception that if you are having sake, you must pair it with Japanese food. However, it's not the case here at Ignis; they pair the spirit with grilled delicacies.
Modern European and Asian-inspired fusion is a tale as old as time by now. What fascinates us about Ignis is the fire that they have, figuratively and literally, with locally sourced ingredients. Freshness is the keyword we are looking for here, especially when it comes to sake pairings. 
The night starts handsomely with "The Chicken Skin", an appetiser that draws inspiration from Chef Desmond's favourite fried chicken skin snack. On the plate, we have brioche toasts topped with lightly charred fried crispy chicken skin and pickled cucumber stacked in between. Gracing this prelude with a tinge of tanginess which we later found out to be onion puree, is a grand idea to balance out what would otherwise be a greasy snack. The first glass of the night is Tsuruume Yuzushu, a Yuzu-flavoured Sake that bears a resemblance to limoncello. Made with yuzu juice sourced from Wakayama and one-year-old junmai (pure rice) sake at a 1:1 ratio, the refreshing glass is easy to drink—as a palate cleanser or a thirst quencher.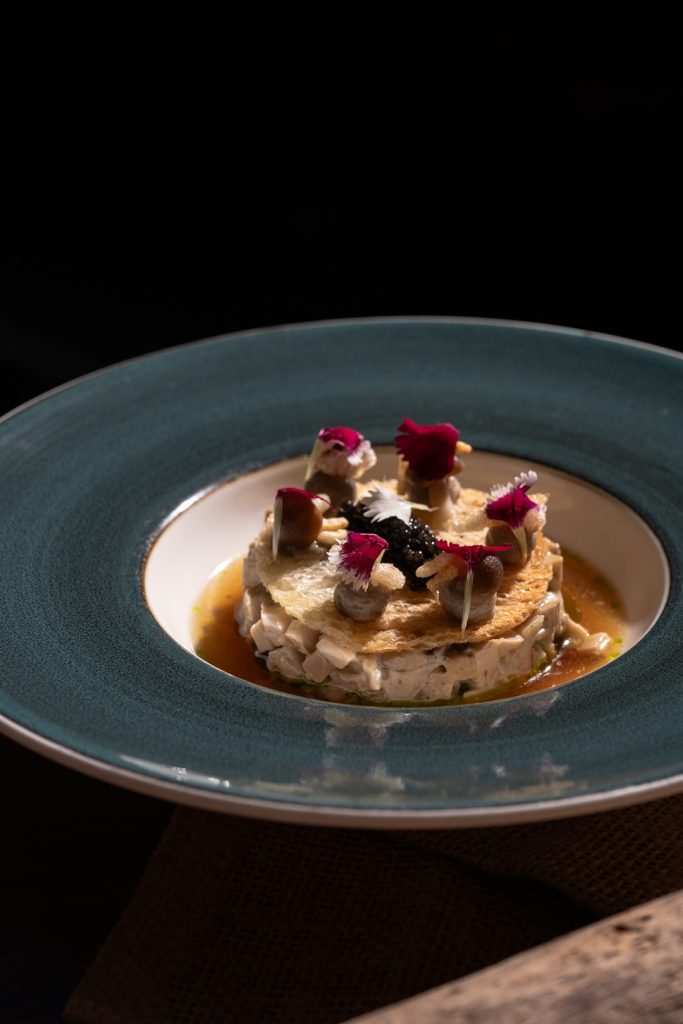 The Mushroom was served cold, "another approach to mushroom soup", said the chef. Without your usual creams, chowders or bisques, this was instead made with clear brown broth from the trimmings of shiitake, button, and king oyster mushrooms shimmered down with vinegar and fish sauce for a hint of umami. In the middle of the bowl sat a stacked mushroom tartare of the aforementioned assortment of shrooms with crème fraîche. The thin and crispy disc-shaped toast piled with pickled and deep-fried shimeji, along with Sturia Caviar from France, was a nice touch that not only added texture but also flavour to the dish. To complement this cold appetiser, we had the Takijiman Ginjyo. Commonly served as an aperitif, the light-bodied sake set off the richness of the mushroom with a fruity tang that preps us for the main dishes.
The third dish entered and the constant is clear—each dish is named after an ingredient, which is good news for people who like a no-nonsense menu. The Pumpkin is an Italian-inspired dish that is Chef Desmond's forte, given his previous experiences under the tutelage of two Michelin-starred Chef Luigi Stinga. Charred over an open-wood fire, the gnocchi was made to look like pumpkin chunks; the seasoned pumpkin cubes, on the other hand, are slow-cooked in brown butter to mimic the texture of the gnocchi. Sauces are never dull at Ignis. This main dish was ladled with pumpkin puree, coconut curry, lime juice and yoghurt gel, a combination that might not be the first that comes to mind for a gnocchi dish, but is not at all surprising as they complement each other rather well.
How do you like your Golden Snapper? We like it with otak-otak sauce, blended well with fish trimmings, garlic, galangal, pickled daikon and lemongrass—one that looks very much like curry. The generous slab of Golden Snapper—sandwiched with seaweed and lemon zest—was placed atop charred leek, which brought out the flavours of seafood, white fish especially. For a flavourful delight, sake sommelier Danny opted for KID Junmai Daiginjo. The medium-bodied and aromatic rice sake is a nice accompaniment to have with the flavourful main course. With fruity notes such as apricot and strawberry, along with a hint of white flowers, the brew rounds off the dish well.
Shibumi, they said, is a Japanese word that loosely translates to "effortless perfection".
The strawberry sweetness lingers, for a good reason as the following dish, the A5 Omi Beef came splattered with strawberry cognac sauce—not a regular culinary couple you will commonly come across yet a good companion if done right. But that is not the only exciting part of the dish: charred winged beans and sambal hitam were served alongside the gorgeously marbled meat slices, fresh off the grill.
And finally, dessert: the Parmesan. A cheesecake by Chef Viyern Ooi, it arrived drizzled with mango gel, fresh mango cubes, and lime-flavoured sago. The cheesecake is light, thanks to the lime, something we appreciate especially after such a fulfilling meal. Finishing the night off with a high note, the Tsuruume Yuzushu—an apparent crowd's favourite of the night, was brought back to the table, as a nightcap for the slow sippers.
Available from 22 November 2023 onwards, you can reserve a table here.
Address: G-02A, Ground Level, The Sphere, No. 1, Avenue 1, Bangsar South City, 8, Jalan Kerinchi, 59200 Kuala Lumpur, Wilayah Persekutuan Kuala Lumpur
Opening Hours: 11:30 am–3 pm, 6–10 pm
Price: RM300++, alcohol pairing of sake and cocktail at RM150++*price of alcohol pairing is subject to change with every tasting menu.