In the GRAZIA Malaysia March 2023 issue, Yuna speaks to us about life in LA, staying true to herself, and her new Malay language EP, Menanti.
No one could possibly accuse Yuna of being inauthentic. In the 13 years since the release of her first studio album, Decorate, Yuna has moved to Los Angeles, released more albums, worked with the likes of Tyler the Creator, and even refers to Mike Eizinger of Incubus as her "bestie in LA." 
In an industry where record labels are notorious for changing your look just to hit the right audience, it can be challenging to hold your ground. The risk? Losing opportunities. Despite all that, she remains steadfast in her beliefs, religion and home country. "My husband says I'm the most Malaysian person ever," Yuna laughs during our video interview while giving her husband, Adam Sinclair, a playful side-eye. With five albums under her belt and over 1.5 million monthly Spotify listens, Yuna is doing pretty well for herself.
On calling Los Angeles "home" for the past ten years
Coming out to Los Angeles took a serious leap of faith for her. With zero connections in the United States, she put her complete trust in her manager. "Ben believed in my artistry, music and identity," she says.
"Before I moved out here for good, I had already contributed to the Malaysian music industry. I did my thing, starting as a young artist and working with different producers. It was essential for me to work with my friends and help them build something together.
"But after a while, I started asking myself, where do I go from here? I've won some awards and wanted to try something else. That's when I decided I needed to come out here. Even after ten years, I feel like I can still do so much and explore all the things I've not done in music."
Despite a busy schedule, life in Los Angeles gives Yuna the freedom to be herself. "I have a small apartment with my husband and two cats, and we live pretty normal lives," she says. "Everything else is pretty much the same—we still make Malaysian dishes at home like nasi goreng kampung and fish curry with Baba's curry powder." 
On being fluid with her musical genres
"I've released five albums so far, and they all sound different from each other!" she laughs. Reminiscing on Dan Sebenarnya, a popular hit from her Decorate album, "It was really special—the song came out of thin air. I was still in university then. Back then, the most natural way for me to make music was with my guitar and working with my bandmates. It led me to the indie scene. That was how I began making music which led me down the path I'm on today."
I was very close to getting a [Grammy] nomination, but it didn't happen. The first thing I felt at the moment was, aw, that would have been so cool for Malaysia.

Yuna
With the hip-hop and R&B scene in LA so strong, it naturally influenced her musical style too. "I still bring that young singer-songwriter Yuna along with me—I'm just letting her try new things," she explains. Trying out new musical styles worked out for her, and it became natural for her to adopt the neo-soul R&B genre. "I don't like to just stay in one lane. I like to diversify and experiment with different genres."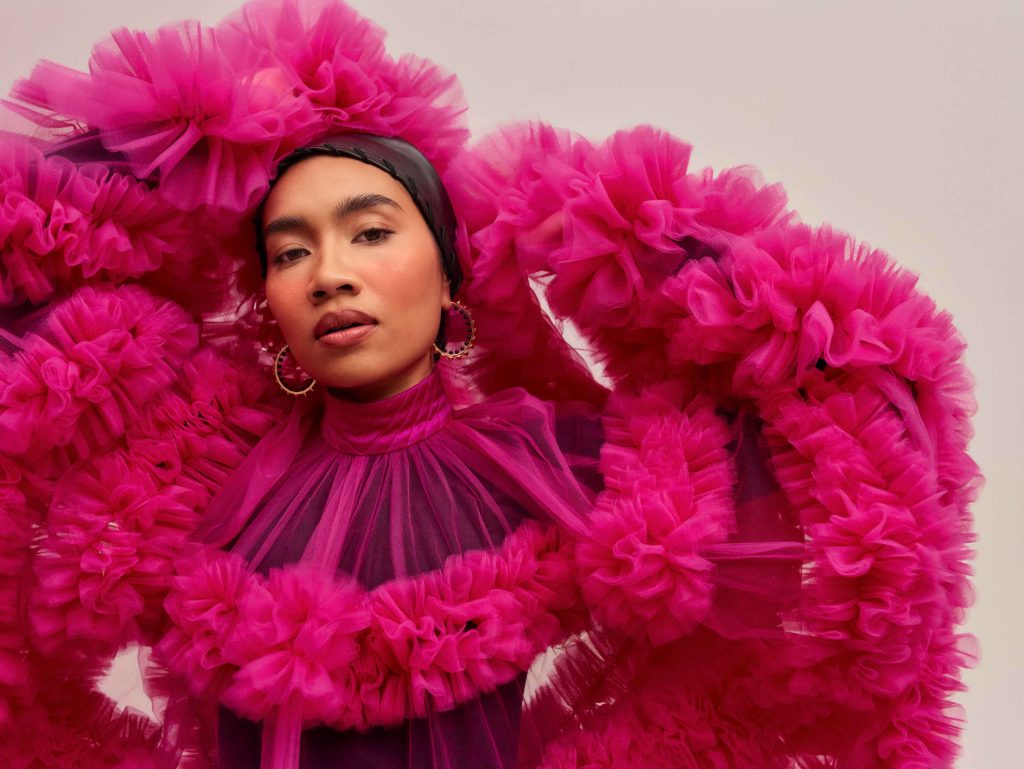 Once in a while, though, she says, she returns to just her and the guitar—precisely what she's bringing with her in her upcoming Malay EP, and then some more. She shares that she doesn't even have a name for the EP yet, but it's a love letter dedicated to her Malaysian fans. "I'm making this album to reconnect with them and show them who I am as a Malaysian living in LA. I had the idea with my husband to shoot some behind-the-scenes of the making of these songs, which I hope will show my fans why I can't go back to being the Yuna from the Dan Sebenarnya days," she explains. "I want them to experience this upgraded Yuna in the way that they can connect with, which is Malay music."
She continues, "With this EP, I'm writing about everything I've experienced in the last two years. It's been a tough time for me—I lost my cousin whom I was close to. I'm an only child, and she was like the sister I never had. We lost her to COVID, so it's been difficult for me."
On leaving the guilt behind
"I don't want to feel guilty for leaving Malaysia to pursue my career here, but it's a feeling that comes and goes," she confesses. "But I truly believe I deserve a place in the music industry here because I work hard. I have a gold record for Crush, a song I wrote myself. It means a lot to me that I'm not just a singer lying around doing nothing—I really put in the work."
This exasperation stems from a previous interview she did that received flak from the Malaysian community where she referred to herself as a Malaysian American artist. "I think it was different for me because I started my career in Malaysia and created such an impact on the local music scene. When people hear me say that, they think that I consider myself American. I'm not saying I'm American—I've just been working in the American industry for a long time," she explains.
While she doesn't expect people to understand what she goes through, Yuna admits that it hurts when people say she's forgotten her roots when it was never the case. "I guess people have different expectations of what I should be as a Malaysian artist, but I'm focused on making the best work possible and making Malaysia proud. That has always been on my number one list.
"I still want to win a Grammy or at least get nominated. In fact, I was very close to getting a nomination, but it didn't happen. The first thing I felt at the moment was, aw, that would have been so cool for Malaysia. It's always been important for me to put Malaysia on the map and prove to the world that we can do it!"
Her dream of putting Malaysia on the map was so palpable she made it her mission to talk about it every day that she was on tour in 2022. "Every night on tour, I would start the show by saying, hey guys, if you don't know, I'm from Malaysia. I came out here with a dream, and without you guys, I wouldn't be able to do this," she says.
"Malaysia is always close to my heart."
Read the full story in the GRAZIA Malaysia March 2023 issue here.
Credits:
Photography: Emman Montalvan; Styling: Carolina Orrico; Makeup: Christopher Miles; Photographer's Assistants: Justin Brooks, Ben Thompson; Digital Tech: Maria Noble; Styling Assistant: Luis Cruz; Producer: Even Yu; Production Manager: Guoran Yu; On Set Producer: Joy Marie Thomas; Production Coordinator: Crystal Yang; Set Stylist: Carolina Benitez; Special thanks to: Primo Studios, Didi Ramlan.