'Tis the season to get splurging, be it for your loved ones or for yourself. Between great deals and collectable limited editions, your 2023 Christmas gift shopping should be a breeze. Speaking of speed, you might want to head out to hunt these down—we bet these holiday collections are practically flying off the shelves as we speak. From the ornate Dior Beauty advent calendar to the new collectable Guerlain Météorites, we've got you covered with the Christmas 2023 beauty gift guide.
The array here will include items for your friends of every kind. Got someone who's an advocate for the everything shower? Know a person who is an absolute fraghead? Is your friend a true fan of all things luxurious? There's bound to be something for anyone and everyone in this shopping guide. Even if you're shopping for yourself, it's best to find out what's out there before you settle for an option or two (or three, we don't judge) to splurge on yourself.
The Best Holiday Collections for Your 2023 Christmas Gift Shopping
You can't miss with the KENS Apothecary Advent Calendar. It's a true luxury. As the name suggests, it houses a dozen indulgent beauty treats and splendid fragrances. It includes our favourites such as the scientifically-advanced Augustinus Bader The Cream and the Caudalie Vinoperfect Radiance Serum that's suitable for every skin type. You can also play around with a new brand to join KENS Apothecary, Philip B. Here, they include the Peppermint Avocado Shampoo that's formulated for those wanting an invigorated scalp as well as volume in their hair. Aside from the usual suspects, the advent calendar also features a Marvis toothpaste and a Malin+Goetz deodorant.
Price: MYR529
When you're shopping for the girl who has got her makeup and skincare game down pat, it's time to pull out the big guns, A.K.A. the L'Occitane Premium Advent Calendar. Of the 24 curated items from its most successful ranges, six will be guaranteed full sizes, which are perfect for at-home pampering sessions. The minis, on the other hand, will be the ideal travel essentials or even gym bag necessities.
Price: MYR528 with a minimum purchase of MYR50
Make someone's day by choosing this as your 2023 Christmas gift for them. The Concentrated Ginseng Renewing Cream Set consists of the full-size Concentrated Ginseng Renewing Cream EX, the First Care Activating Serum VI, the Concentrated Renewing Serum, and the Concentrated Renewing Eye Cream. In one fell swoop, you're effectually giving them the gift of healthy, energised skin. Perfect for anyone at any age, this exclusive option will infuse your year-end with unparalleled luxury.
Price: MYR895
If you're at the starting line of your journey to discovering Penhaligon's offerings, then you might as well start with The Toy Chest. Trust us, it will spark festive joy across 24 days of scent-sational luxury. Complete with perfumes, soaps, candles, and hand creams, the holiday collection features some of the brand's most iconic fragrances such as The Coveted Duchess Rose from the Portraits line, as well as the crowd-pleaser, Quercus. There's a grand total of 17 olfactive treats to explore here, and we'd say that that's a good amount to start.
Price: MYR2,350
Exclusively available at the Penhaligon's Boutique at Pavilion Kuala Lumpur.
Dior littles, anyone? The Le 30 Montaigne Advent Calendar is here, and in it are 24 miniaturised favourites from the Maison's beauty repertoire, ranging from makeup, skincare, and even its refined fragrance and scented candles collection. Each little drawer hides surprises such as the J'adore perfumes, Rouge Dior lipsticks, and the powerful Dior Prestige La Micro-Huile de Rose Advanced Serum. But we won't spoil it any further. The advent calendar itself is reusable as a gorgeous storage case. Created by Pietro Ruffo, it is a recreation of the facade of the iconic boutique at 30 Avenue Montaigne. If you're feeling uber-generous, this is the creme de la creme of Christmas gift to any beauty lover.
Price: MYR2,800
Selena Gomez's Rare Beauty is showing no signs of slowing down, and the Soft Pinch Liquid Blushes continue to dominate the blush game. This holiday season, don't miss out on these minis. Don't let the miniature size fool you—a little goes a long way with these babies, so these will last you long enough before you need to replenish them. What makes this set special are the two set-exclusive shades, which are Wisdom (a mauve plum blush) and Magnetise (a light gold luminiser). On top of that, you'll also get the blush in a universally pleasing terracotta and the Positive Light Luminiser in a cheeky rose gold colour.
Price: MYR179
As we gear up for the new year, it's time to bring your skincare game to the next level. Enter the Drunk Elephant Trunk 7.0, the heftiest option off of the brand's holiday collection. Whether you choose to split the lion's share with your friends and family or hoard it all to yourself, the stash is always a reliable go-to for your skin's health—from cleanser to face oil. It houses all the serums you'll ever need: a resurfacing serum to reveal camera-ready skin; a ceramide-rich hydration serum to inject the acid mantle with much-needed nourishment; and a daily vitamin C serum to protect the skin from oxidative stress.
Price: MYR2,050
Whenever there's a new Météorites release, best believe that veteran beauty enthusiasts will be having a field day. Both resplendent and opulent, the entire holiday release is conceptualised in collaboration with Turkish jeweller, Begum Khan. For this holiday season, the iconic powder arrives encased in a receptacle that is inspired by tortoise scales, reflecting the French house's festive season colour, black and green. The powder itself? It's a blend of correcting, complementary, and illuminating colours, packed in pearls of pigmented powders that are enhanced with Stardust technology, leaving the complexion with a radiant halo after application.
Price: MYR369
Exclusively available at the Parkson Pavilion Kuala Lumpur.
This is it. This is the holiday kit that's going to be a favourite for your 2023 Christmas gift shopping. Don't be surprised if your friends thought to gift it to you, too. First of all, you'll get the Mini MAC Fix+, which is a staple is everyone's kit. Then you have the MAC Stack mascara, one of the latest viral releases from the cosmetics brand. It aces the trifecta: length, volume, and curl. To top it off, the effects last throughout the day (translation: your curls won't drop), and there will be zero smudges. Finally, they seal if off with the MAC Powder Kiss Velvet Blur Slim Stick in Over The Taupe, a comfortable yet durable formula, in a colour that can fit a wide range of skin tones. Need we say more?
Price: MYR189
The Bum Bum hype is real, and you can have it all, from top to toe. Perfect for the everything shower practitioner, it houses a body scrub, a shower creamy gel, a firming body butter, and a fast-absorbing body oil, all tinged with the award-winning, decadent fragrance of Cheirosa 62. In case you have yet to catch a whiff of it, it's a delicious blend of pistachio, salted caramel, and vanilla. To complete the set, the package also includes the perfume mist so you can refresh on the go. If you're already a fan of the scent, this holiday exclusive is the opportunity to replenish your favourites at a deal.
Price: MYR330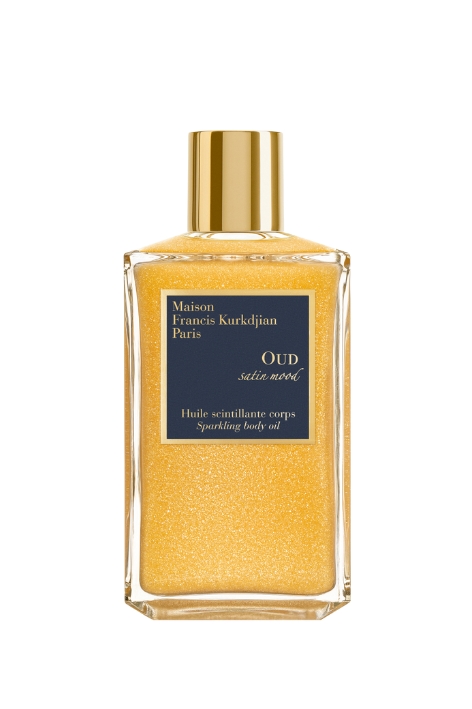 If there's ever a time of the year when you can douse yourself in glittery body oil, this is it. In fact, you can still sparkle your way through to the summer. And instead of opting for the Baccarat Rouge 540 edition, we turn your attention to the Oud Satin Mood Sparkling Body Oil. Sweet yet dark, the scent will have people around you taking notes on your fragrance of choice. Laced with delicate sparkles, the body oil adds a little bit of fun to the act of applying fragrance. And who doesn't love an enviably healthy glaze these days?
Price: MYR1,150
We can all agree on one thing: Aesop products can elevate any and all space. Spruce up your powder room with the Aesop Heartful Harmonies set, comprised of the Reverence Aromatique Hand Wash, Post Poo Drops (a criminally underrated item at the signature store), and the Istros Aromatique Room Spray. Trust us—your guests might even end up lining up to experience the Aesop goodness.
Price: MYR390
Plump, youthful skin will forever be on the inspiration board, so this set from Sisley Paris will make for a sure-fire gift to a skincare nut in your circle. The two full-size skincare decadence are the iconic Black Rose Skin Infusion Cream and the trusty Black Rose Eye Contour Liquid. Both are multi-award-winning products in their own right. To sweeten the deal, you're going to get a sampling of the powerful Black Rose Precious Face Oil, a tincture that's known for its effective nourishing and anti-aging effects.
Price: MYR1,280
Unlike many Christmas gift sets out there, this one takes inspiration from the Middle East—Egypt specifically. To execute this vision, Oribe has collaborated with multidisciplinary artist and designer Louis Barthélemy, who bounces between Cairo, Marrakesh, and Paris to explore his art, which is the revival of traditional crafts. Our pick among them all is of course the quintessential Gold Lust collection, which includes the shampoo, conditioner and the oil in a convenient travel size. Why? Because it's an absolute staple in any hair care routine.
Price: MYR562
Exclusively available at KENS Apothecary and Oribe salons.
Each year, for the festive season, NARS drops a cheek palette that will instantaneously sell out. Not only does the palette give you more bang for your buck, you're also getting the unparalleled, long-lasting powder blush formula that makes the blush such an icon in the brand's offerings. In one fell swoop, your blush wardrobe is practically set for any and all looks that you seek to execute.
Price: MYR270
When we say we have you covered, we mean it. Last, but not least, we turn your attention to the Chanel Le Vernis, especially the colours that are exclusive to the Holiday 2023 collection. Spotlighting three sultry festive shades (Tuxedo, White Silk, and Sequins), these timeless colours can very well go into heavy rotation all throughout 2024, so go ahead and get several to make for some of the best stocking stuffers of the season.
Price: MYR125