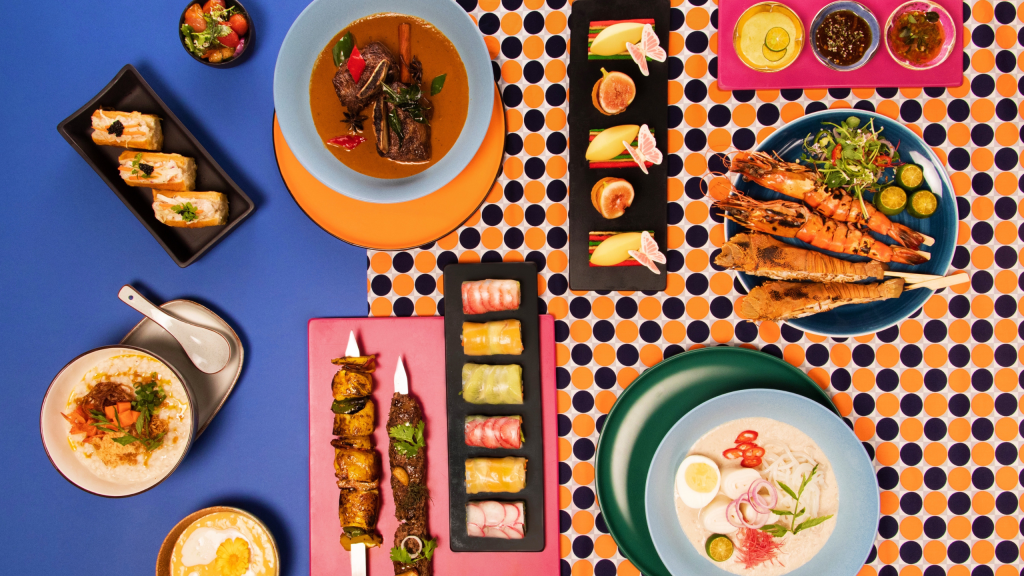 More than just a time for spiritual reflection and self-discipline, Ramadan is about reconnecting with the community, and what better way to do that than over some flavourful cuisine? We have fine-combed an infinite number of buka puasa menus and narrowed it down to five buffet options you must check out for an array of delectable dishes, warm and welcoming ambience, and more.
W KUALA LUMPUR
Looking to usher in Ramadan in style? W Kuala Lumpur's fan-favourite Bazaar Malam is making a comeback at Flock. Promising a sumptuous spread prepared by Executive Chef Haznizam Hamzah and Sous Chef Suhalmi Md Tasir, Bazaar Malam will line up multiple stalls to serve up local delicacies including Kudap, Kudap and Jeruk Jeruk Penang. You will also be pleased to hear that last year's highlight Roti John Stall will return to the restaurant with more soft and crispy flatbreads and delectable fillings including succulent lobster.
Dates: 24th March – 21st April 2023, 6.30 PM to 10:30 PM onwards
Price: RM288 nett per adult and RM144 nett per child (6 – 12 years old)
For enquiries, drop by W Kuala Lumpur, email bf.wkualalumpur@whotels.com or WhatsApp and or contact +6012–3479088.
PULLMAN KLCC
An all-inclusive buka puasa experience is done a little bit differently at Pullman KLCC's Bazaar Dinner Buffet at Sedap Restaurant. Lining up a number of food stalls, each is manned by chefs with their speciality menu using their very own recipe, the hotel welcomes you with an array of tantalising classic and local cuisines such as beef rendang, traditional salads, durian onde-onde, lok lok and other special kampong dishes. Don't forget to check out the Kampung House and capture a photo or two for memories.
Dates: 25th March – 21st April 2023, 6:30 PM to 10 PM
Price: RM238 per adult and RM119 per child (6 – 12 years old)
For more details, visit the hotel's microsite www.pullman-kualalumpur-citycentre.com or Facebook @PullmanKualaLumpurCityCentre
SUNWAY RESORT HOTEL
One word to describe Sunway Resort Hotel's Jemput Makan offering: Theatrical. Bringing scenes from Arabian Nights to life, the backdrop setting at the hotel's brand-new poolside restaurant Sunset Terrace boasts some life-like palm trees, camels and Arabian lights. On the culinary front, Jemput Makan celebrates Malaysia's unique culinary Malay heritage with a bill of fare that includes the succulent Kambing Golek and Daging Bakar Harimau Menangis, a classic dish inspired by Chef De Cuisine Afiq Matkhir's heirloom recipe.
Dates: 24th March – 21st April 2023, 6.30 PM to 10.30 PM
Price: RM228 nett per adult and RM114 nett per child (6 to 12 years old)
For reservations, call +603-74952009 or +603-74928000 or email srhs.bookfnb@sunwayhotels.com. Advanced reservations are encouraged.
THE RUMA HOTEL AND RESIDENCES
Chef de Cuisine of Production Kitchen, Chef Mohammad Rizuwan, reimagines the flavours from his childhood with this year's buka puasa menu at Santai. His exceptional spread will highlight the often-overlooked aspects of traditional Malay cuisine, featuring an assortment of aromatic ulam, piquant kerabu, punchy jeruk and crunchy keropok, on top of all-time favourites such as lemang, daging serunding, satay and ayam rending. There will also be modern iterations of Malay classics, from salmon bakar to slipper lobster percik.
Dates: 28th March – 20th April 2023
Price: RM218 nett per person
For reservations and inquiries, WhatsApp or call +603-27780614
THE ST. REGIS KUALA LUMPUR
The annual Malam Warisan Melayu feast is back. This year, it celebrates Malaysia's diverse flora with traditional herbs and flowers like Bunga Betik, Bunga Kantan and more. The buffet menu will be on rotation: Sajian Melayu 1 served on Monday, Wednesday, Friday, and Sunday will see items such as Melaka Asam Pedas Sour & Spicy Snapper Fish Stew on the spread. Meanwhile, those who come on Tuesday, Thursday, and Saturday will get to enjoy dishes like Negeri Sembilan Smoked Duck Spicy Coconut Gravy Masak Lemak Itik Salai.
Dates: 27th March – 21st April 2023
Prices: RM275 nett per adult and RM138 nett per child (6 to 12 years old)
For more information on Malam Warisan Melayu Buffet, call +603-27276696,
WhatsApp +6012 280 1303, or email at dining.kualalumpur@stregis.com