The idea of Michelin restaurants in Malaysia is still rather new as compared to our Southeast Asia counterparts like Singapore or Thailand but nevertheless, it is growing steadily. Malaysia is a food paradise, but yet the ultimate question of the day is always: Where are we eating today?
The list revealed at the Michelin Guide Ceremony today makes up a banquet, ranging from Haute Cuisine like Dewakan to decade-old comfort food we grew up with. Aside from the eateries, up-and-coming young chefs, sommeliers and also the front of house were also awarded with special awards. It's all about teamwork, afterall, it really takes a village to deck the table with gustatory delights.
"The Michelin Guide is more than just a list of recommended restaurants, it is a celebration of the passion and creativity that goes into proposing exceptional dining experiences to demanding and curious gourmets," Gwendal Poullennec, the International Director of the Michelin Guide declared.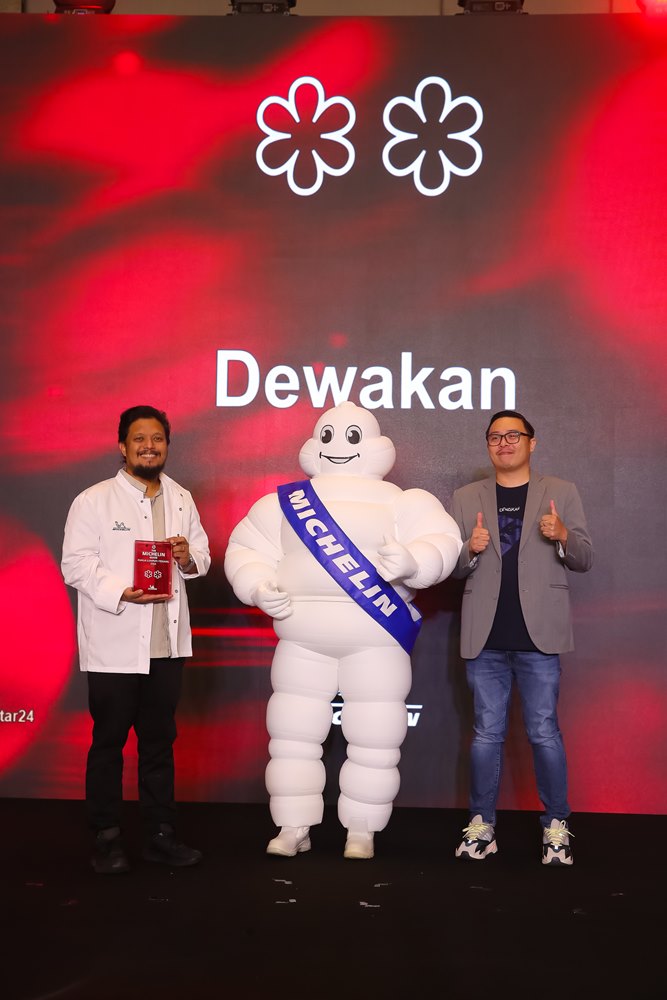 A first in Malaysia, the heavy-weight Dewakan had successfully put itself on the global map with a two-star honour—a major step-up for the fine-dine as the team gained two-star in merely a year time. Well-known for serving localised dishes with a modern twist, the team continues to celebrate our bountiful land with locally-sourced ingredients.
D.C by Darren Chin from KL, along with Auntie Gaik Lean's Old School Eatery and Au Jardin from Georgetown retained their one-star honour this year, joined by the newly awarded Beta KL, a familiar name among the gastronomes. While D.C by Darren Chin offers an avant-garde gastronomy experience, Auntie Gaik Lean's is the winner of hearts with its old-school charm, and all the hearty Peranakan dishes. Au Jardin, on the other hand, serves exciting contemporary Franco-Asian cuisine; and the new kid on the block, Beta, who worked its way up from the Michelin Selected last year, continues to amaze the discerning gourmets with their saporous menu(s).
Michelin Selected
On the Michelin Selected list, we welcome 16 newly added establishments in Kuala Lumpur:
Bōl
Café Café
Entier
Frangipaani
Jwala
Ling Long
Malai
Marini's on 57
Seed
Shanghai Restaurant
Sushi Masa
Tanglin (Bukit Damansara)
Tenmasa
Teochew Lao Er
Wagyu Kappo Yoshida
As for Penang, we have five names on the list:
888 Hokkien Mee (Lebuh Presgrave)
Air Itam Duck Rice
Ceki
Fook Cheow Cafe
Jit Seng Hong Kong Roasted Duck Rice
Penang Famous Samosa
Richard Rivalee
Sambal
The Pinn
Special Awards
The taste of food is, ultimately, the most important criteria for the inspectors, but other aspects like the brilliant services that makes diners feel at home, or the well-equipped sommeliers who are ever ready to clear our doubts will escalate our dining experiences, and for that, Michelin awarded and acknowledged these talents with four special awards.
Service Award: Wan Mohd Zulkifeli, from Gai by Darren Chin
Sommelier Award: Yap Cze Ying, from Hide KL
Young Chef Award: Johnson Wong Jia Liang, from Gēn
Opening of the Year Award: Remash Thangaraj, from Jwala
Bib Gourmand
About a week ago, 14 new eateries—hawkers or restaurants—were added to the Bib Gourmand list. Most people would agree that satisfying meals do not always come with a hefty price tag, even a cart by the roadside is capable to keep us satiate.
There are five distinctive eateries on the KL map:
Hor Poh Cuisine
Jalan Ipoh Claypot Chicken Rice
Roti by d'Tandoor
Sek Yuan
Sri Nirwana Maju.
As for the Penangnites, the list of nine includes:
Ah Boy Koay Teow Th'ng
My Own Café
Sister Yao's Char Koay Kak
Ghee Lian
Siam Road Char Koay Teow
Penang Road Famous Jin Kor Char Kuey Teow
Bibik's Kitchen
BM Cathay Pancake