Often associated with a sense of calm and tranquillity, the colour blue can evoke feelings of relaxation and mindfulness. But beyond your yoga and meditation session, there's no harm in wearing a piece of blue jewellery or a watch that can help you stay centred throughout the day. Here are our top picks for the month.
White gold 750/1000, onyx, set with 2 emeralds on the panther's eyes, 30 sapphires and 647 brilliant-cut diamonds may sound like a lot for a calm day. But a piece from this collection feels more like a sculpture on your wrist than a jewellery piece to show off, so we'll say… why not.
Besides the beautiful colour, a topaz is said to invigorate a sense of relaxation and awakens a sense of peace. In the midst of a bustling city, a small piece that helps to stabilise your emotions is what we all need.
Whether its diamonds and turquoise or diamonds and lapis, the Princess Flower collection gives these pieces additional depth to this unique handmade piece.
What's special about this design, is that it's designed by Jean Schlumberger, the legendary Tiffany & Co. designer and owned by Elizabeth Taylor — a gift from her husband, Richard Burton, in 1965. The sea flower clip is designed to created an oceanic effect.
Soak in the warm energy of the sun with the 'Sunlight' collection designed to reflect the vibrancy of the sky. These diamonds paired with sapphires earrings can be styled in three different ways. Wear it with just the short part alone, add the long part for a glamourous look or have a different style, one on each ear.
Operating on a Calibre 101, the smallest mechanical calibre ever made, Jaeger-LeCoultre's not playing around with this one. On a white gold bracelet, their craftmanship qualities is shown as the curves are carefully designed with rows of 347 brilliant-cut sapphires. This just shows how there are endless possibilities to combine a mechanical watch and a beautiful jewellery piece.
The model says it all — a 'Happy Sport' is what we should all aspire to be. It doesn't hurt that it's also a beautiful piece.
Virgo's unite! Van Cleef and Arpel's Zodiac collection features a sparkling blue enamel background representing the celestial sky. A piece that reminds us of a quote from Bill Watterson for Calvin and Hobbes, "If people sat outside and looked at the stars each night, I'll bet they'd live a lot differently. Well, when you look into infinity, you realize that there are more important things than what people do all day".
For this piece, Grand Seiko takes inspiration from the qualities of the white lion. Large and powerful, yet carries majestic qualities and a regality that translates into an exquisite design that incorporates premium materials. The watch face is adorned with meticulously arranged diamonds and blue sapphires, expertly set by hand to create a seamless, smooth surface that encircles the elegant blue mother-of-pearl dial.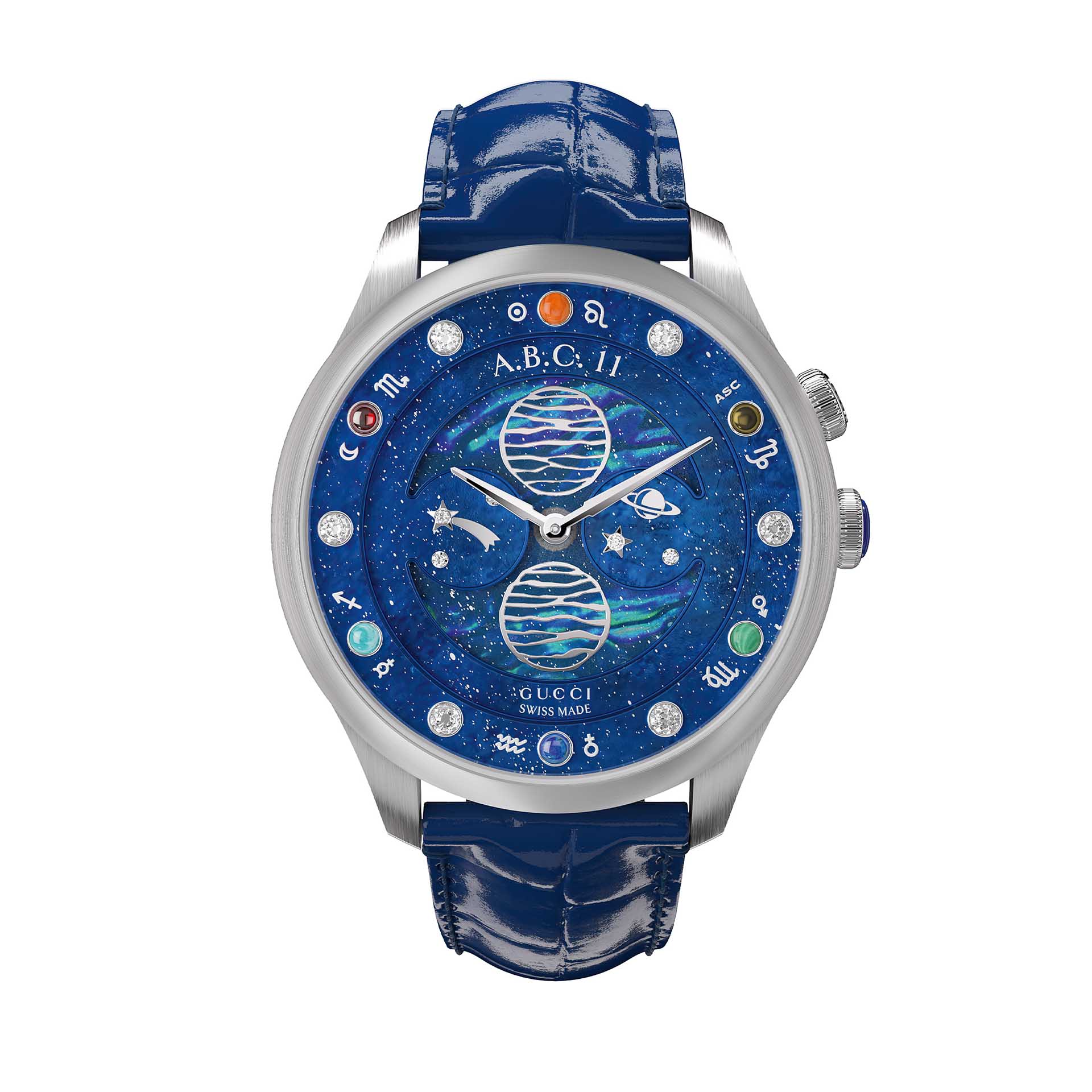 Here's a special one from Gucci's High Watchmaking collection. The client's specific place, time and date of birth are uniquely depicted on the watch where the six gemstones that reflect the astral map, linked to zodiac signs and the birthday planets' position. Now we just need the stars to align.
Selected by Nikita Nawawi and Sarah Chong.