And it seems like so is everyone else. This month, Sephora welcomes the highly-anticipated South Korean skincare brand Melixir, much to the delight of local fans. Although we don't have the full product line yet, the ones that did make it here are some of the brand's best-selling ones.
Over on the hair department, Dyson isn't the only brand that's making a splash in the world of hair tools. In a stunning unveiling at the W Kuala Lumpur Wet Deck, ghd pulled out all the stops and brought out their Spring/Summer collection, where the iconic tools were dipped in sunkissed shades.
Read on to see what new beauty launches have made it onto our radar.
Gucci Beauty Éternité de Beauté Foundation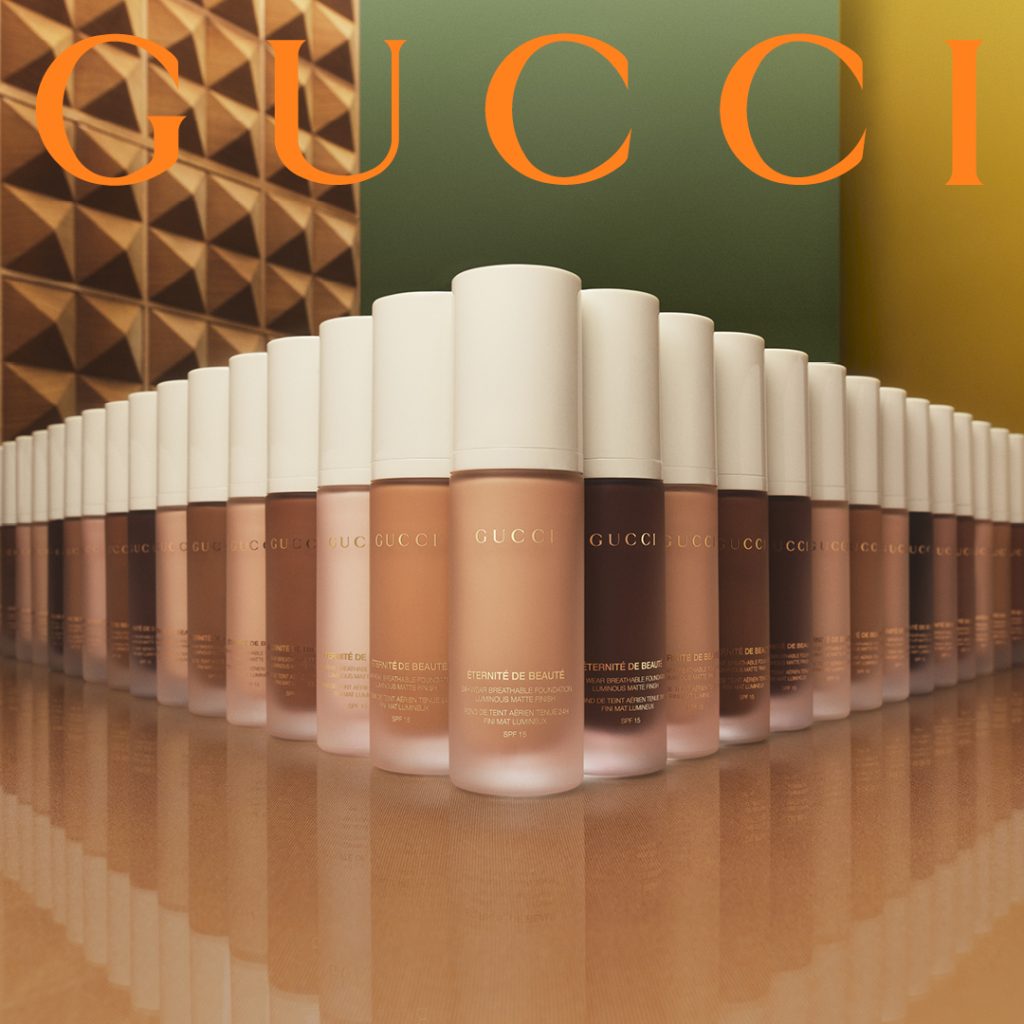 Living through this heat wave has got us on a zero-to-hundred mode when it comes to makeup. Just in time for this, Gucci Beauty launches the Éternité de Beauté Foundation, a base that's going to last from day to night.
Unlike traditional long wear formulas, the Éternité de Beauté Foundation is a breathable foundation that gives you full coverage and a luminous matte finish. There's no need to cake this on to achieve its intended effects, too, as one single pump goes a long way. Just see how celebrity makeup artist Shiyo Joo demonstrates here:
Melixir Vegan Airlift Sunscreen SPF 50+ PA++++
That's right—South Korea's most wanted sunscreen lands in Malaysia. With a pleasing formula that works on virtually any skin type and tone, the weightless facial sunscreen shields the complexion with the most optimum protection there is out there.
Enriched with Asian botanicals, it absorbs seamlessly into the skin instantly (without the white cast) and delivers up to 10 hours of SPF 50+ protection—all while soothing and moisturising the skin.
We reckon that this sunscreen will easily become your latest holy grail if it hasn't already.
Carolina Herrera Good Girl Blush Eau de Parfum
Packaged in its iconic stiletto-shaped flacon, the latest arrival from Carolina Herrera is a new interpretation of the classic Good Girl. The Blush edition sees the recognisable sweet and amber fragrance given a different twist. Despite the all-new scent profile, they still share some similarities. You can still get that same powdery sweet and vanilla hints. However, the Blush has a more floral-forward scent—thanks to the notes of rose water and peony.
To put it simply, while the OG Good Girl is the one you'd mist on for a night on the town with the girls, the Blush is what you'd wear to go on a romantic daytime date.
Rose Hermès Silky Blush
Is there ever such a thing as too many blush options? Not in our books, and it seems that the house of Hermès are of the same mind. Introducing four new additions to the Rose Hermès family (three deliciously-hued blushes and a lip enhancer), these are the shades that will keep you fresh-faced all summer long.
From neutral perfect-for-the-everyday Rose Ambré, to the ultra-radiant Rose Cuivré, each shade is imbued with a subtle mother-of-pearl finish that simply melts into the skin and gives off that dreamy glass skin look.
The collection is available at Hermès Pavilion store and Parkson's Pavilion, Kuala Lumpur.
Hair Rituel by Sisley Paris Colour Beautifying Hair Care Mask
Caring for your brand-new hair colour shouldn't be a difficult process. To cut down on maintenance time, Sisley Paris introduced the new Colour Beautifying Hair Care Mask that's guaranteed to work in just three minutes.
Not only will it protect your hair colour during the washing process, but it's also infused with active ingredients that shield the fibre from UV rays, chlorine, and seawater, all of which can desaturate your hair colour. On top of the superficial benefits, the natural oils added to the formula intensely hydrates and revitalise each strand.
ghd Spring/Summer Sunsthetic Collection
Due for a hair tool upgrade? Why not check out gizmos that are much-loved by professional stylists across the globe. Perfect for the season, ghd releases their iconic gadgets in a brand new colour palette, so be sure to check these limited edition babies out before you hit 'check out'.
No matter which tool your heart (and hair!) desires, it will arrive in the new Sunthetic shades of taupe, rose gold, desert, and gold. We have our hearts set on the Platinum+ Styler in Sunkissed Taupe.